This Wedding Photo Of Anna Camp And Skylar Astin With Their Dog Is Everything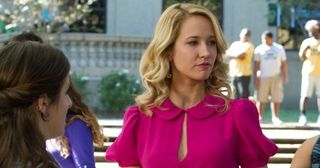 Anna Camp and Skylar Astin just can't stop being the most aca-adorable couple! The Pitch Perfect sweethearts and recent husband and wife shared the cutest wedding photo on Tuesday night, featuring Camp's precious pooch Rocky. Check out the adorableness below.
It's no surprise that Anna Camp is killing the Instagram game with wedding photos --- on her wedding day last month Camp flooded her Instagram account with gorgeous photo after gorgeous photo of her stunning dress, her flower-filled outdoor ceremony, and of course, adorable pics of her new husband Skylar Astin. What could make those wedding pics any cuter? How about Camp's puggle!
Anna Camp wrote that she really misses her family alongside the photo of Skylar Astin and her pug/beagle mix Rocky. After their wedding in September, Camp and Astin set off for an Italian honeymoon together, but with that recently ended, the couple is now back in the real world and Camp has been off promoting her new Amazon series Good Girls Revolt.
Thankfully, the newlyweds just might be working on the same set together again very soon for Pitch Perfect 3, which Anna Camp recently confirmed she has signed on for. Skylar Astin has not yet officially confirmed his involvement in the third sequel yet, but given that he was a main role in the first film, came back for the second, and is now married to his costar, it seems pretty safe to assume he'd be all in if the producers approached him.
As for the other leading man in Anna Camp's life, her puggle Rocky is actually a movie star also! Well... you haven't seen his work on the big screen yet, but Camp (who refers to herself as "Rocky's mom" in her Twitter bio) uploaded a cute little flick starring her dog Parent Trap-ing it up in dual roles back when he was just a young pup in 2012.
Um, where is his Oscar?? I can see why you miss him, Anna!
Anna Camp and Skylar Astin first met on the set of their 2012 musical comedy Pitch Perfect. They began dating after the film was released, and married each other in early September of this year. They reprised their original roles in Pitch Perfect 2 in 2015, and Camp is confirmed to return yet again for 2017's Pitch Perfect 3.
Your Daily Blend of Entertainment News