Why Kendall Jenner Really Likes Having Her Boobs Out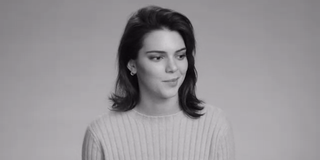 (Image credit: W Magazine)
Since becoming a bona fide fashion model, Kendall Jenner has not been shy about showing off her body. In fact, the young reality star says that she really loves baring a bit of skin in her shoots and runway walks! Why? According to what she said in a recent interview, she's more than happy to expose her boobs, since she's young and looks good, and can look back on them when she's older.
Kendall Jenner's frank discussion on the topic is a part of W Magazine's "Screen Test" series of fashionable celebrity interviews. In her video discussion, Jenner remembers her first major runway show, which was for Marc Jacobs in 2014. Even though it was her biggest show yet, Jenner says she wasn't anxious about it because she didn't have to wear high heels, and the fact that her boobs were going to be visible was actually exciting to her.
Kendall Jenner then goes on to explain why the nudity that would embarrass most of us actually exhilarates her in her modeling career. And her reasoning makes sense --- she wants to show off her body now while she looks good, so she can look back on the photos when she's older.
Of course, Kendall Jenner's confidence also comes from having seen her older half-sisters flaunt their assets in nude campaigns. Kim Kardashian famously "broke the internet" last year with a naked cover shoot for Paper Magazine, and an episode of Keeping Up With the Kardashians followed Khloe Kardashian's decision to pose nude for a PETA ad closely. Check out Kendall's full interview below.
Kendall Jenner really wasn't kidding when she called posing with her boobs exposed has become "one of her things." In case you somehow missed it, Jenner has shown off her breasts for numerous fashion photoshoots and runway shows. Last month, she was on the cover of Dutch Vogue in a see-through white tank top.
She had a tease-y photoshoot with photography duo Luigi and Iango, who are famous for taking high-fashion topless shots...
Even outside of the fashion realm, Kendall Jenner likes to flaunt her stuff. She posted an edited photo of her flashing the camera last year and said is was her favorite photo and showed genuine happiness. She credited former Disney Channel star Moises Arias with taking the pic.
She showed off another side of her exposed breast in a topless ad for Calvin Klein jeans.
And she covered her bare chest with her arms in a photoshoot for her GQ cover story last year.
Two years back, she had another topless magazine shoot with Love Magazine.
And before that there was the topless shoot with Interview Magazine.
As evidence by all of this topless work, 50-year-old Kendall Jenner is clearly going to have a lot of smoldering photos to look back on!
Your Daily Blend of Entertainment News
Thank you for signing up to CinemaBlend. You will receive a verification email shortly.
There was a problem. Please refresh the page and try again.