Here's How You Can Play Minecraft: Story Mode For Free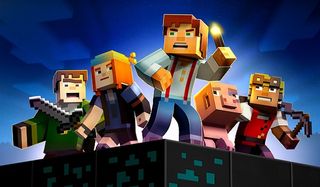 If you still haven't taken Minecraft: Story Mode for a spin, your patience (or stubbornness) is being rewarded in the form of some gratis gaming. For a limited time, you can get your hands on the first chapter free of charge.
Telltale announced this week that they have made the first chapter of Minecraft: Story Mode 100 percent free across multiple platforms, including the Xbox Marketplace, iOS, Google Play, the Amazon Appstore, and the PlayStation Network. Pretty much anywhere you can play the game (and there are certainly a large number), you can get in on the action for no initial investment.
To make this news even better, Telltale has announced that, after you give the first chapter a go, you can get the rest of the episodic series at a discounted rate. So not only can you play for a couple of hours with no commitment, you can keep right on trucking for a fraction of the original asking price.
There are a few options when it comes to purchasing the full game, including the Season Pass, Adventure Pass, Season Pass Deluxe and The Complete Adventure across various platforms. There's also the physical game disc, which can be purchased at retail. No matter which route you go, you'll find that Minecraft: Story Mode has seen a reduced rate, though we'd argue that publishers are getting a bit carried away with all of these different packages.
In total, Minecraft: Story Mode comes in at eight episodes. That's five episodes from the core game, plus the additional three episodes from the Adventure Pass. That's a break in the norm for Telltale, who tend to keep their episodic games, including The Walking Dead, Game of Thrones, Tales From the Borderlands, Batman and the like, to about five episodes.
Starting next Tuesday, Oct. 25, Minecraft: Story Mode -- The Complete Adventure will be available at retail for $29.99. That's a pretty nice price point for all of that blocky goodness. This physical version of the game will be available for the PlayStation 3, the Xbox 360, PlayStation 4 and Xbox One. A PC launch is planned for the near future.
If you're new to Telltale games, they don't really venture below "fantastic" in the quality department these days, and reviews for Minecraft: Story Mode show that it does a good job of keeping that tradition alive. It's got a solid cast, too, featuring Patton Oswalt, Catherine Taber, Ashley Johnson, Corey Feldman, John Hodgman, Paul Reubens, Sean Astin and more.
For those of you who have already plowed through everything Telltale's Minecraft has to offer, we'd love to hear your thoughts in the comments below. Not that people should need extra convincing to try a free chapter, but is this something folks might want to move to the top of their "to do" list?
Your Daily Blend of Entertainment News
Staff Writer for CinemaBlend.