Why Brad Pitt Hasn't Answered Angelina Jolie's Divorce Petition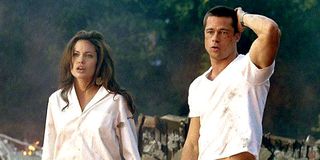 (Image credit: Mr. and Mrs. Smith)
Brad Pitt and Angelina Jolie's divorce is getting even more complicated. Apparently, Pitt is delaying the whole process by not filing his response to his wife's divorce petition, which was due on Wednesday.
Sources close to Brad Pitt say that he has purposely missed the due date for his divorce response because it could set up a nasty custody battle that would be hard on the couple's six children, TMZ reports. Pitt is reportedly going to seek joint legal and physical custody of the Jolie-Pitt children, whereas Angelina Jolie has filed for sole physical custody. Obviously, those adverse positions could set a pretty damaging custody war into effect, so Pitt is apparently delaying getting it started for the welfare of the children.
Another reason that Brad Pitt could be delaying the proceedings is that it actually betters his chances at getting custody. Since Family Services still has an open investigation into Pitt's confrontation with son Maddox Jolie-Pitt that sparked the divorce last month, he has less of a chance at getting the partial custody that he is seeking right now. But once that case closes, he will be in a much better position in a custody battle with Jolie.
Since Brad Pitt missed his court-appointed due date, Angelina Jolie is able to get legal action going for demanding a default statement, but TMZ's source assured that she will not be doing that. Apparently, Jolie also wants the divorce to be as uncontentious as possible, and the couple is also trying to get the whole matter settled without much court involvement.
In case you were living under a rock for the past month and didn't know that supercouple Brangelina is breaking up, here are the details. Angelina Jolie filed for divorce from husband Brad Pitt on September 19, five days after Pitt reportedly got into an argument with the couple's adopted fifteen-year-old son Maddox Jolie-Pitt on a private plane. In the month since the divorce news broke, Pitt has seen five of his six children twice in scheduled visits. Maddox has refused to attend both scheduled visits with his siblings, but did finally meet up with Pitt on Wednesday in the presence of a therapist.
Brad Pitt and Angelina Jolie first met in 2005 on the set of their spy thriller Mr. and Mrs. Smith. The beginnings of their relationship received significant tabloid coverage due to the fact that Pitt was still married to Jennifer Aniston when many believe he began dating Jolie. Jolie had already adopted her son Maddox from Cambodia before meeting Pitt, and right when she began dating him she adopted a second child from Ethiopia accompanied by Pitt. Once they finally admitted that they were in a relationship a year later, Pitt underwent the process to adopt both Maddox and Zahara Marley. They went on to adopt another son Pax from Thailand, and give birth to three biological children: Shiloh, Knox, and Vivienne.
Given that Brad Pitt and Angelina Jolie have such a large family full of young children, let's hope that they are being honest when they say they want to keep this divorce and custody decision as peaceful as they can.
Your Daily Blend of Entertainment News