Lindsay Lohan Has An Explanation For Her New Accent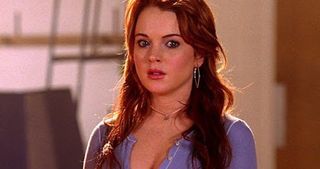 Lindsay Lohan has been taking a hiatus from acting for the past few years, but hasn't disappeared from the spotlight since permanently moving to London. The actress has made her voice heard online numerous times over the past few months over political issues like Brexit, her volunteer work with refugees in Turkey, and by shocking fans by recently announced she sustained a gruesome finger injury. But all of those comments and announcements came through her social media. It hadn't even occurred to most people that the public hasn't heard Lohan actually speak in quite some time --- that is, until she unveiled a strange new accent at the opening of her new nightclub recently.
The strange new accent had the Internet very perplexed, but Lindsay Lohan explained to the Daily Mail that it's simply a result of her travels and recent European lifestyle. She says that as she picks up foreign languages, they've been influencing her everyday dialect.
Apparently, Lindsay Lohan is quite the linguist, and is at different stages of learning to master six languages. Lohan is already fluent in English and French, and says that she can understand Russian as well. Since moving to London and traveling extensively around Europe over the past year, Lohan says that she is also learning Turkish, Italian, and Arabic.
Hmm, now that you mention it, I guess her new accent does sound kind of Turktalianabic-ish? Maybe? You can judge for yourself from the video footage below, which has been causing fans to scratch their heads since it surfaced online Tuesday morning.
The footage came from a red carpet interview of Lindsay Lohan at the opening of her Greek nightclub LOHAN last month. The bizarre new dialect is definitely a departure from how fans are used to hearing Lohan speak in her mid-2000s hit films like Mean Girls and Freaky Friday. Of course, Lohan is no stranger to accent work. Going all the way back to her childhood, Lohan was able to put on a convincing English accent for her breakout role in 1998's The Parent Trap. Still, this new accent isn't so easy to pin down...
As commenters online continued to try to pin down the new accent, Lohan herself got in on the fun, suggesting the it be called #LILOHAN.
So there you have it --- the world's first instance of the brand new dialect #LILOHAN. I'm hoping that I can pick it up soon!
Your Daily Blend of Entertainment News