Kendall Jenner Shields Instagram From Her Nipples… With Pizza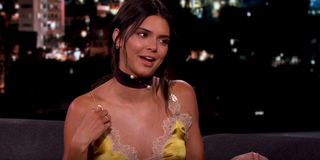 Kendall Jenner is a big fan of showing off a little more skin than most people tend to. In fact, semi-exposing her breasts has become the young model's go-to staple --- gracing magazine covers and designer runways visibly without a bra. And although this has helped her career in the realm of high fashion, it's not so welcome on social media. But leave it to a member of the Kardashian family to make Instagram work for her, rather than the other way around!
Kendall Jenner snuck past Instagram's "no nipples" rule with a cheesy little trick in a post on Sunday. The reality star and model placed two small pizza slice emojis over her nipples in a photograph of her torso, wearing a see-through black shirt.
The nearly-nude photo is certainly not a first for Kendall Jenner or her Instagram account. The model has posted several shots of herself wearing a see-through top or going topless, but each time she is careful to cover her nipples so that Instagram will not remove it. And you know that Instagram obviously has their eyes on Kendall Jenner, especially given that she is the proud owner of the most-liked photo on the social media site --- Jenner's photo of herself with strands of her hair forming hearts was actually briefly overtaken by an old photo on Justin Bieber's account of the singer kissing ex-girlfriend Selena Gomez, but Jenner retook the lead after Biebs deleted his Instagram a few months back.
Kendall Jenner actually spoke about her penchant for going topless in photos and runway shows a couple weeks back, saying that its actually something that excites her rather than makes her nervous, and that she wants to look back on her body now when she's older and remember how good she looks. Exposed breasts first became Jenner's staple about two years back when she walked the runway for Marc Jacobs in a completely sheer brown top without a bra underneath.
Unfortunately for Kendall Jenner, Instagram has become notable for its anti-nipple stance in recent years. The site's guidelines specifically forbid users from sharing photographs that feature female nipples, with exceptions given to post-mastectomy scars, active breastfeeding, and photos of artwork. The ban has angered and galvanized many progressive users who feel that the female nipple should be treated with the same nonchalance as the male nipple. Instagram became somewhat of a battleground for the Free the Nipple movement --- a gender equality campaign that began after a film of the same name was released in 2014. Celebrities including Miley Cyrus, Chelsea Handler, and Rihanna would actively ignore Instagram's nudity guidelines by posting photos that exposed their nipples, which the site would then delete.
Looks like Kendall Jenner is going to ignore all the drama that goes with protesting Instagram's policies, though. Why get all worked up when you can just chill with some pizza, right?
Your Daily Blend of Entertainment News