Kendall Jenner Just Bailed On Instagram, So Now What?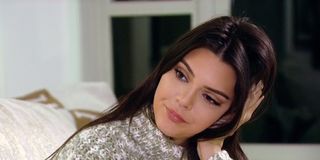 (Image credit: Keeping Up With the Kardashians)
Certain things just go together: peanut butter and jelly, coffee and doughnuts, Kendall Jenner and Instagram. Sadly, though, it looks like the whole balance of the universe is off --- Kendall Jenner may have deleted her Instagram account. Fans of the young model and reality star were met with a "page unavailable" notice instead of pictures when attempting to view Jenner's Instagram profile over the weekend and today.
Before her account disappeared, Kendall Jenner was one of the most popular people on Instagram, even boasting the app's most liked post ever (a photo of Jenner laying down with strands of her hair forming heart shapes). The sudden disappearance of Jenner's page could either mean that Jenner has deleted the app or simply set her account to private, but right now nobody is sure which it is.
So what could have caused this sudden Instagram exit? One of Kendall Jenner's last posts before shutting down her account was a revealing selfie of her torso that just made it past Instagram's strict nudity rules because Jenner had placed two pizza emojis over her nipples. Jenner used her account several times to test the boundaries of the app's infamous "no nipple" rule, posting tons of topless snapshots that just barely covered her nipples. Perhaps Jenner, who has admitted that modeling with her breasts exposed is part of her brand, finally got tired of Instagram forcing her to censor her photos and left the site altogether. The app has received some of celebrity backlash in recent years from celebrities like Miley Cyrus and Chelsea Handler, who worked the the Free The Nipple movement to try to normalize the female nipple. It's feasible that Jenner is involved with that.
Another possibility for #Kexit (#Jennexit? #Kendexit? Should I stop trying to force this?) is that Kendall Jenner is joining her big sis Kim Kardashian in a bit of a social media reprise. Kardashian has been uncharacteristically absent from all of social media for nearly a month and a half now, ever since she was robbed at gunpoint in Paris on October 3. Like the rest of her famous family, Kardashian had been posting constantly to her Instagram, Twitter, Snapchat, and personal app daily before the robbery, but the only post she's made in the past month is a most likely pre-scheduled Facebook photo that she quickly deleted. Though Kendall Jenner's Instagram is M.I.A., her Twitter, Snapchat, and Facebook accounts are still up and running, so if she is taking a step back from social media, it's not an all-encompassing one.
But what's most likely the cause is the simple fact that Kendall Jenner is taking a small break from the app and she'll be back on in time. Just two months ago, Jenner admitted to Allure that she will delete her social media apps from her phone every so often because she is afraid of missing the beauty of the world around her while staring at her phone. Makes sense, but what are we supposed to do now? It's not like the world around us is all that great to look at right now... Please come back, Kendall!
Your Daily Blend of Entertainment News
Thank you for signing up to CinemaBlend. You will receive a verification email shortly.
There was a problem. Please refresh the page and try again.