Attention 80s and 90s Kids: NKOTB, Boyz II Men And Paula Abdul Are Touring Together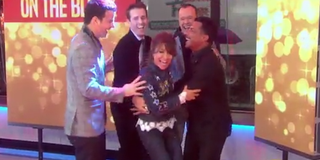 (Image credit: TODAY)
Get ready for the nostalgia motherlode to come to a city near you! New Kids On The Block just announced that they are about to kick off a new tour, and in case that wasn't enough throwback goodness, the boy band (I guess now it's man band) is bringing along Boyz II Men and Paula Abdul as well.
New Kids On The Block made the surprise announcement on TODAY Tuesday morning, bringing out the members of Boyz II Men and Paula Abdul as they announced the artists who would be joining them for the newly announced 2017 tour, which will be called the Total Package Tour. Check out the exciting announcement below.
The New Kids On The Block have toured with Boyz II Men just a few years back when the R&B group opened for them during their 2013, but this is the first time that either group has toured with Paula Abdul. Though Abdul was one of the most successful artists of the '80s and early '90s, she hasn't actually gone on tour for over 20 years, choosing to focus more on her career as a reality show judge and television personality than her music in recent years. Though Abdul is probably best known now for her roles as a judge on music competition shows like American Idol and the short-lived X-Factor on Fox, she's about to remind the world that she got those spots for a reason.
New Kids On The Block confirmed that tickets for the tour will be available for purchase from their website starting this Saturday. The shows will be scattered across North America throughout the summer of 2017. The new tour will be the ninth consecutive summer tour that New Kids On The Block have headlined since their reunion in 2008. For most of those tours, the pop band has chosen to bring along fellow nostalgia acts to perform with them, such as the Backstreet Boys, 98 Degrees, and Jesse McCartney to name a few.
While the tour announcement was definitely a warm moment of coming together for the three music acts, there was one person notably missing. New Kids On The Block member Jonathan Knight couldn't join his bandmates in New York City for the announcement, but he more than made up for missing out by sharing his own bit of good news: he's engaged! The singer, who is currently in Africa, revealed on Jenny McCarthy's radio show Tuesday that he popped the question to his longtime boyfriend Harley Rodriguez while on the trip.
Grab your scrunchies and find somebody to babysit your Tamagotchi for you, because tickets for the Total Package Tour featuring New Kids On The Block, Boyz II Men, and Paula Abdul will go on sale this Saturday!
Your Daily Blend of Entertainment News