Kendall Jenner Got Asked To Name Her Least Favorite Member Of Taylor Swift's Squad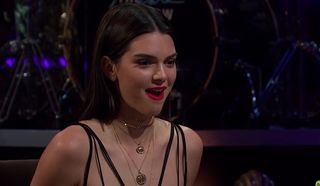 Kendall Jenner was ready to get honest on The Late Late Show with James Corden Wednesday night, but not about one particular topic. The reality star and model chose to drink bird saliva rather than reveal who her least favorite member of Taylor Swift's famous girl squad is. You can check out that moment starting at around 4:50 in the video below.
The touchy question came up during a game of "Spill your guts or fill your guts," during which Kendall Jenner and James Corden took turns asking each other sensitive questions that the other either had to honestly answer or consume some disgusting food like fish eyeballs or cod sperm. As the game got going, Jenner was faced with the choice to either drink bird saliva or call out her least favorite member of Taylor Swift's squad, which includes model friends like Karlie Kloss, Gigi Hadid, and Cara Delevingne, along with celebs like Ellie Goulding, Uzo Aduba, Selena Gomez, and Hailee Steinfeld. Without giving it a second thought, Jenner immediately plugged her nose and downed a bit of bird saliva to avoid answering the feud-fueled question.
The reason the question is so controversial is due to the fact that nobody quite knows where Kendall Jenner and Taylor Swift stand with one another. Jenner's rise in the world of high fashion modeling over the last few years as helped her develop friendships with major models like Cara Delevingne, Gigi Hadid, and Karlie Kloss --- all of whom are also close friends with Swift and considered central parts of her girl squad. Those close relationships would seem to suggest that Jenner would also be in Swift's inner circle, but that gets a lot more complicated due to Jenner's family.
Taylor Swift and Kanye West have kept up one of the most public celebrity feuds in Hollywood for several years now, ever since West stormed the stage at the 2009 Video Music Awards and interrupted Taylor Swift's acceptance speech for Female Video Of The Year to argue that the award should have gone to Beyoncé instead. Later, West married Kendall Jenner's older sister Kim Kardashian, and Kardashian got involved in the drama after Swift accused her husband of writing a nasty song lyric about her without her permission. Over the summer, Kardashian posted video clips of a phone call between West and Swift to her Snapchat that showed Swift agreeing to parts of the song lyric, which fanned the flamed between Swift and the whole Kardashian-Jenner family.
We'll just have to wait and see if Kendall Jenner gets a part in the totally-inevitable "Bad Blood: Part 2" video to see what's really going on. In the meantime, it was probably a wise choice to not answer the question/
Your Daily Blend of Entertainment News