Did John Mayer Throw Shade At Taylor Swift On Her Birthday?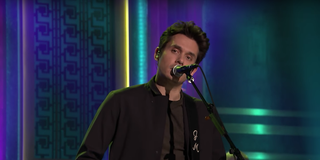 (Image credit: The Tonight Show with Jimmy Fallon)
Well, that's not exactly a "happy birthday"... Many people are interpreting a tweet that John Mayer posted and then quickly deleted on his ex-girlfriend Taylor Swift's birthday to be a jab at his former flame.
While Taylor Swift was celebrating her 27th birthday on Tuesday, her ex John Mayer was apparently having an exceptionally dull day, and decided to share his unfiltered thoughts about Tuesday, December 13 to the world, TMZ reports. In a now-deleted tweet, Mayer called the day "the lamest day of the year." Umm, did he forget that it was his famous ex-girlfriend's birthday or was he intentionally trying to stir up some drama? You decide.
Obviously, Twitter users were quick to jump on that tweet and interpret it as shade towards Taylor Swift. John Mayer deleted the tweet, and then posted a clarification saying that he didn't mean any shade by that statement and implying that at age 39, he's too old to be playing those games.
It's hard to know what John Mayer was referring to if not Taylor Swift's birthday, though... unless he just really hates Tuesdays, winter, and the number 13 maybe. And given that Mayer has been known to throw his fair share of shade in the past, the scales do seem to tip in the favor of the tweet not being a random accident.
John Mayer and Taylor Swift dated seven years ago in 2009, but only remained an item for a little while. Judging from the music that the break-up inspired, it was not a happy split. Swift released the track "Dear John" shortly after the relationship ended, an open letter to a past relationship where Swift accused her lover of manipulating her. The song also includes the lyrics about the couple's age difference, and given the song's title, the time it was recorded, and the fact that Swift was 19 and Mayer was in his early 30s when they dated, it became very obvious to listeners that the diss track was about Mayer, though Swift never addressed that.
John Mayer criticized "Dear John" a couple years later, and then released "Paper Doll," believed to be a response track asserting that Taylor Swift had overreacted to their breakup. Things between Mayer and Swift have been relatively quiet since that track was released three years ago... Could Mayer be trying to resuscitate his famous feud?
Your Daily Blend of Entertainment News
Thank you for signing up to CinemaBlend. You will receive a verification email shortly.
There was a problem. Please refresh the page and try again.