Megan Mullally And Michael J. Fox Actually Dated Once Upon A Time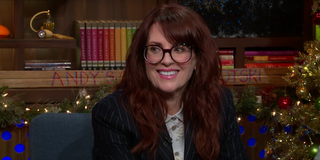 (Image credit: Watch What Happens Live)
Michael J. Fox was the golden boy on every girl's radar back in the '80s, and apparently that included Megan Mullally! The actress and comedian opened up about about going on a few dates with Fox in the mid-'80s.
Megan Mullally spilled the details on her short relationship with Michael J. Fox on Watch What Happens Live Thursday night. After a caller pressed her for info about their reported fling, Mullally said that she went out with him a few times around the time of his iconic film role in Back to the Future, which came out in 1985. She recalled going on a go-kart racing date with Fox, and joked that their relationship ended because she beat him to the finish line.
Check out Megan Mullally's story for yourself below.
Although Megan Mullally is a recognized name, in 1985 she was far from being the celebrity she is now, whereas Michael J. Fox was arguably at the height of his fame after starring in the long-running sitcom Family Ties and kicking off the now-iconic Back to the Future franchise. In fact, Mullally would have just shown up in Los Angeles in '85 after moving from Chicago in search of more acting work. A few dates with Michael J. Fox is quite the welcome-to-L.A. gift, huh!?
Of course, Megan Mullally did find the fulfilling acting career that she was searching for after appearing in small supporting TV and movie roles throughout the late '80s and early '90s. In 1998, she landed her career-making role as the brash and boozy socialite Karen Walker in Will & Grace. Michael J. Fox joined Mullally in finding late-'90s sitcom success by leading Spin City, and has remained a respected actor decades past his teen stardom, though most recently he's had to slow down on his roles due to symptoms of his early-onset Parkinson's disease.
In terms of their own romantic lives, Megan Mullally and Michael J. Fox didn't have to wait long to find love following their breakup. Fox married his Family Ties costar Tracy Pollan just a few years later in 1988. They are still married today and have had four children together. Mullally went on to marry talent manager Michale Katcher in the mid-'90s, and then married her current husband Nick Offerman in 2003.
And though Megan and Michael are happily married to other people now, they'll always have that '80s go-kart track.
Your Daily Blend of Entertainment News
Thank you for signing up to CinemaBlend. You will receive a verification email shortly.
There was a problem. Please refresh the page and try again.