Watch Serena Williams Request An Apology From A Reporter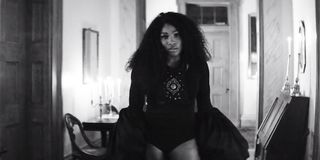 You don't get to being one of the best tennis players of all time by listening to the haters. So when a reporter began picking apart one of her recent matches in a press conference, Serena Williams requested that he apologize to her.
Following her match against Czech player Lucie Safarova in the Australian Open last week, the first question Serena Williams was met with during her press conference included a critique of her gameplay. Though Williams handily won her match, besting Safarova in both sets played, the reporter noted some of her unforced errors and double faults, and called it a "scrappy performance." See how Williams responds to that in the video below.
In response to the reporter's critique, Serena Williams calmly called the statement "negative" and asked the man if he wanted to apologize for saying it.
After the reporter apologized, Williams went on to say that she thought both herself and Lucie Safarova gave great performances, and explained that there may have been some errors in there due to the fact that she was giving her all to win.
As Serena Williams pointed out in her response, Lucie Safarova is not a player to underestimate. The last time Williams faced off against Safarova in a head-to-head match was in the 2015 French Open finals, which Williams won. But more recently, Williams and her sister Venus lost to Safarova and her partner Barbora Strycova in straight sets at the 2016 summer Olympics in Rio de Janeiro. With her win over Safarova last week, Serena Williams is now in the quarter-finals for the Australian Open. Her sister Venus has already qualified for the semi-final round. If Williams goes home with the Australian Open trophy, it would be her twenty-third grand slam title, making her only one title away from matching Margaret Court's record 24 grand slam wins.
With all that success and a fresh win under her belt, it's no wonder Serena Williams was confused as to why she was being asked about her couple of errors. And let's not forget that Williams has an impressive history with shutting down annoying reporters. Or maybe she just wanted to hear the name of that Beyonce video she starred in again: "Sorry."
Your Daily Blend of Entertainment News
Your Daily Blend of Entertainment News
Thank you for signing up to CinemaBlend. You will receive a verification email shortly.
There was a problem. Please refresh the page and try again.