Disneyland To Offer A $15,000 Dinner Experience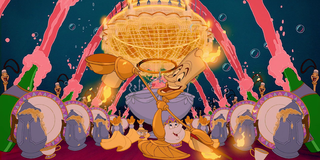 (Image credit: Beauty and the Beast)
Disneyland is taking the concept of giving its guest the true royal treatment with a brand-new ultra luxurious restaurant. But of course, all that immense opulence comes at a very steep price.
The world famous theme park is opening an insanely lavish new restaurant called 21 Royal, but to get a meal there you're going to have to shell out $15,000, PEOPLE reports. Yup, you heard right --- the swanky new joint is charging you the equivalent of Disneyland park admission for 150 people to chow down. Although the website does note that tax, gratuity, valet service, and park admission is included in that price, so I guess it's only really insane instead of absolutely insane.
But what you get for that downpayment on a car is a night of pure Disney magic. The restaurant is a private dining experience located in the apartment that Walt Disney had built for himself and his wife in the middle of the California theme park, and it can be reserved for up to 12 people, which I guess would make it a tad more cost-effective. 21 Royal has already had its first dinner guest: a reviewer for the luxury media outlet Rodd Report named Jeff Anderson.
In his write-up, Jeff Anderson describes his night at 21 Royal as worth every penny of the $15,000. The opulence hits you right from the beginning, as guests are led up a gilded stairwell into Walt Disney's would-be private apartment. Then a cocktail hour begins as the sommelier offers up both fine wines and stories about Disney and his residence as guests tour the ornately decorated building. It's a rare look inside the private life of Walt Disney and his wife Lillian, both of whom died eleven years after opening Disneyland in 1955. The couple had this luxurious suite commissioned before their death, but never got to actually enjoy it themselves. The 21 Royal experience promises to give guests a lavish dinner party akin to those that the Disneys would have actually thrown for their friends.
After the tour and drinks, guests are served a seven-course meal that is specially tailored to the dining group --- basically you give the chefs any theme you like or an ingredient to base the meal off of, and they craft the perfect menu. Finally, after diners are stuffed from their seven courses, they can snack on desserts on the balcony and look out over the theme park, even catching the fireworks show at night.
It really does sound like a magical experience, but you not what else sounds like a magical experience? Not spending $15,000 on dinner. I mean, call me cheap but I'm totally happy with McDonald's. But hey --- if you've got the cash to burn, I say go for it.
Your Daily Blend of Entertainment News
Your Daily Blend of Entertainment News
Thank you for signing up to CinemaBlend. You will receive a verification email shortly.
There was a problem. Please refresh the page and try again.