James Marsden Took His 15-Year-Old To The SAG Awards, Check Them Out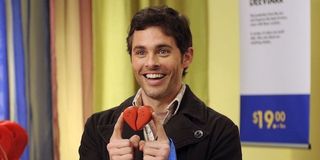 If watching the first season of Westworld hasn't already messed you up enough about the idea of robotic human clones, then seeing its star James Marsden take to the red carpet with what could be his young doppelgänger is sure to blow your mind.
James Marsden brought his fifteen-year-old son Jack Holden Marsden along with him for the Screen Actor's Guild, and it's clear that the two share a striking family resemblance! From the kind eyes to the wide, welcoming smile, the father and son are two peas in a pod --- the only difference is Jack's coiffed, bleached hair. Take a look at the two Marsden men below!
The other main difference between James Marsden and his son is their fashion choices. As you could probably already tell from the Spike-from-Buffy bleach job, Jack is a much more adventurous dresser than his father. While James looked classy as ever in his perfectly cut tuxedo, his son brought some more edge to the red carpet by wearing an all-black suit and large Gucci sunglasses (which aren't shown in the photo above). In a pre-show interview with PEOPLE, Marsden conceded that it's not always easy to meet his son's fashion game, especially since he can get away with some more cutting-edge looks than his dad.
I don't know, James --- I bet you could pull off some crazy stuff. In fact, just a couple days before the Screen Actors Guild Awards this weekend, Marsden gave us a reminder of some of his wilder fashion choices from back in the day on his Instagram. Just check him out posing in that red silk shirt and black leather pants! Adventurous fashion, indeed --- although I don't know if his son would want to replicate this particular look.
At the SAG Awards, Marsden was nominated along with the rest of the cast of Westworld for Outstanding Performance by and Ensemble in a Drama Series. HBO's hit sci-fi thriller wound up losing the award to the cast of Netflix's hit sci-fi thriller, Stranger Things.
Jack is the oldest of James Marsden's three kids --- he's actually turning sixteen on Wednesday! Marsden's other child from his first marriage to actress Lisa Linde is 11-year-old Mary Marsden. He also has a 4-year-old son named William Marsden-Costa with former girlfriend Rose Costa. Maybe as they grow up, we'll start to see more of Marsden's kids pose with him on the red carpet! Only time will tell.
Your Daily Blend of Entertainment News
Your Daily Blend of Entertainment News
Thank you for signing up to CinemaBlend. You will receive a verification email shortly.
There was a problem. Please refresh the page and try again.