Selena Gomez And The Weeknd May Be Seen At The Grammy's Together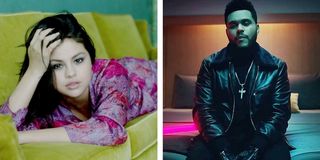 (Image credit: Good For You, Starboy)
Looks like things are getting serious between Selena Gomez and The Weeknd! Apparently, the singers will make their official public debut as a couple at the Grammys. The age of Seleknd is upon us (that couple name could use some work, though).
Just a couple weeks after the surprise couple first caught the public's eye by making out after a romantic dinner date, Selena Gomez and The Weeknd have just planned their biggest and most public date night yet: the Grammys. According to TMZ's sources, The Weeknd has recently contacted the Grammy Awards' organizers and told them Gomez would be his plus one for the event, requesting that they adjust the seating so that they are next to one another at the ceremony. This will be the first time the new couple will be seen together outside of paparazzi photos.
While the couple will get plenty of time to cuddle up with one another during the ceremony, Selena Gomez will have to sit alone for a bit as The Weeknd performs. He is slated as the event's headlining act alongside his "Starboy" collaborators Daft Punk. And although his latest album Starboy was released too late to be up for Grammy consideration this year, The Weeknd could still take home a trophy as a contributor on Beyonce's album Lemonade, which is up for Album of the Year --- The Weeknd is featured on the album's track "Six Inch."
But while her new boyfriend will be taking to the stage at least once at the February 12 awards show, Selena Gomez will probably only be getting up if she has to run to the bathroom. Though her 2016 album Revival was eligible for Grammy nominations and featured hit singles like "Hands To Myself" and "Good For You," it failed to receive any nominations. At least she can cheer on The Weeknd!
At last year's Grammy Awards, The Weeknd attended with then-girlfriend Bella Hadid, and Selena Gomez sat in the front row next to her BFF Taylor Swift. At this years awards, both of their old partners-in-crime could sit out. Hadid is not a musician, so since she's no longer dating The Weeknd, there's really no reason for her to attend. And for her part, Taylor Swift didn't get nominated this year, having not released any new music within the Grammys time parameters. She actually was eligible for part of an award if her ex Calvin Harris' song "This It What You Came For" wound up getting a nom since she co-wrote it, but the song failed to get nominated. Given that she skipped the Video Music Awards a few months back, it's within the realm of possibility that she chill at home on Grammy night. Although the Grammys ads are heavily featuring Swift's acceptance speech from last year, so maybe there is something planned... hmmm...
It all goes down in just two weeks on February 12, which just so happens to be almost exactly one month since The Weeknd and Selena Gomez first started dated. What a major month-iversary date!
Your Daily Blend of Entertainment News
Your Daily Blend of Entertainment News
Thank you for signing up to CinemaBlend. You will receive a verification email shortly.
There was a problem. Please refresh the page and try again.