Britney Fans Fire Back At Katy Perry's Head-Shaving Comment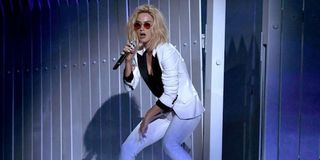 Uh oh --- is Katy Perry about to be involved in another high-profile pop star feud? First, it was her now-infamous bad blood with Taylor Swift, and now some fans are speculating that Perry was making some snide remarks about Britney Spears on the Grammys red carpet Sunday night.
While giving interviews before the Grammy Awards, Katy Perry brought up the topics of shaving her head and mental health twice, which fans saw as a bit of shade towards Britney Spears. I'm sure everyone that knows the name Britney Spears is aware of her period of erratic behavior back in 2007, which famously included shaving her head. When Ryan Seacrest asked Perry why she hasn't put out new music in a while, Perry responded that she was "taking care of [her] mental health," and added "I haven't shaved my head yet!"
In a different interview with Entertainment Tonight, Katy Perry again brought up head-shaving and again connected it to a mental breakdown. When asked about her new bleach-blonde hair color, Perry responded that the only hairstyle she hasn't tried is shaving her head, which she's saving "for a public breakdown."
Britney Spears' ever-vigilant fans were quick to pick up on the comments, which seemed to clearly be referencing their pop idol, and started a Twitter-storm against Katy Perry.
Along with just general anger at Katy Perry for the perceived slights against Britney Spears, many users also voiced their disappointment in the pop star for making a joke about mental health issues.
The comment on mental health was especially jarring for some fans given that Katy Perry has recently been attempting to rebrand herself as a more socially aware pop star.
But on the other side of things, some people were arguing that Britney fans were making too big of a deal out of what was meant as just a small joke, pointing out that pretty much everyone has made some little remark about Britney Spears' past before and it's not meant in a hurtful way.
So what do you think? Did Katy Perry's comments feel "Toxic" to you?
Your Daily Blend of Entertainment News