Kim Kardashian Shares A Kiss With Kanye In Romantic Valentine's Day Photo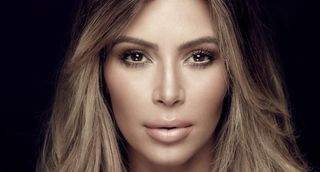 Love was certainly in the air for the Kardashian-West's on Tuesday. The superstar couple shared a romantic Valentine's Day kiss for all of their fans.
Kim Kardashian posted a photo of herself kissing hubby Kanye West to her Instagram for Valentine's Day. In the pic, West shows off his newly re-dyed blonde hair style as he leans down to give his wife a kiss as the sun sets in the background. Check out the photo below.
The lovey-dovey picture comes shortly after rumors that Kim Kardashian and Kanye West had grown estranged were dominating the tabloids. Various outlets were reporting things like they are in couple's therapy or Kardashian was planning to divorce West, but from the looks from the looks of things they're getting along just fine.
The separation rumors were initially stirred up after a particularly strenuous couple of months for the couple. Kim Kardashian had become uncharacteristically reclusive at the end of 2016 after being robbed at gunpoint in Paris, and Kanye West was hospitalized for a week for after an alleged psychotic break. Thankfully, it seems as though things have calmed down for the famous couple in 2017: Kardashian is back to her usual public persona and West is laying off the Twitter rants and bizarre behavior.
And it seems this return to normalcy is also helping their relationship. Not only did Kim Kardashian upload the kissy pic to her Instagram, but she posted a few more cute photos of her and Kanye West celebrating Valentine's Day to her personal app.
In one picture Kim Kardashian and Kanye West are staring lovingly at one another in West's home studio. It was reported after West completed his hospital stay at the end of 2016 that he was spending much of his time in this studio working on his music. In a second picture, it appears as though Kardashian is laughing while picking something out of West's teeth? I think? I'm not totally sure, but you can see that one below.
In any case, it seems pretty clear that Kim Kardashian and Kanye West are defying those divorce rumors and had a sweet Valentine's Day date.
Your Daily Blend of Entertainment News
Thank you for signing up to CinemaBlend. You will receive a verification email shortly.
There was a problem. Please refresh the page and try again.