Will Kris Jenner Get Married Again? Here's What She Says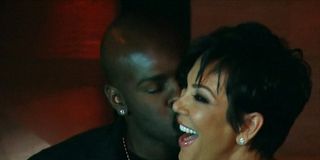 (Image credit: Keeping Up With the Kardashians)
Kris Jenner has been dating her boyfriend Corey Gamble for over two years now, but that doesn't mean they are any closer to walking down the aisle. The Kardashian-Jenner matriarch revealed that she's in no rush to say "I do" for a third time, and is happy with things just they way they are.
The subject of marriage came up when Kris Jenner appeared on The Ellen DeGeneres Show on Monday, and although she and Corey Gamble have shown off their lovey-dovey side on Keeping Up With the Kardashians and Jenner admitted that he is already great with all the kids, the momager isn't in a rush to marry for a third time. Jenner jokingly pointed out her past two marriages "didn't work out so well" --- referring to her divorce from Robert Kardashian before his death in 2003 and her divorce from Caitlyn Jenner (née Bruce Jenner) in 2014, a year before the Olympian completed gender reassignment surgery. Now she says that she's going to follow the example of famous unmarried couples like Goldie Hawn and Kurt Russell and keep the romance alive without being husband and wife.
Kris Jenner also cited her daughter Kourtney Kardashian as an influence on her lifestyle choice. Although Kourtney has separated from her longtime beau Scott Disick, the two remained together and unmarried for nearly a decade, even after having three children together. I guess Kris Jenner is looking to emulate Kourtney and Scott's committed but always kind of no-strings-attached style of relationship, instead of rushing into a marriage and having to end it 72 days later (cough cough, Kim...). Check out Jenner discussing her relationship with Corey Gamble on The Ellen DeGeneres Show below.
Kris Jenner and Corey Gamble began dating towards the end of 2014, and have been together ever since. Gamble works in the music industry for famed talent manager Scooter Braun, who is best known for discovering and managing Justin Bieber. His relationship with Jenner has received intense tabloid coverage not only because of Kris Jenner's name, but also the 25-year age difference between the two.
It sounds to me that after two particularly strenuous and high-profile marriages, Kris Jenner just wants to have some fun right now.
Your Daily Blend of Entertainment News