Why Scott Disick Apparently Got Into A Fight With Kim Kardashian And Kris Jenner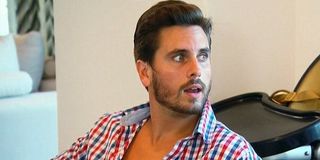 (Image credit: Keeping Up With the Kardashians)
Scott Disick has always been kind of a shit-starter on Keeping Up With the Kardashians, but the famous family usually loves him for his playful antics. He may have taken it too far this time, though... Apparently he got on Kim Kardashian and Kris Jenner's bad side while the whole crew was filming the upcoming thirteenth season of their hit reality show.
The whole Kardashian crew is filming for their new season in Costa Rica right now, and that did include Scott Disick until a couple days ago, when a left the country after a fight with Kris Jenner and Kim Kardashian, TMZ reported. Apparently, Disick had secretly flown a woman out to Costa Rica and put her up at the same hotel the reality show's production crew was staying at. He kept his gal pal a secret from the Kardashians until one of the crew members finally spilled the beans over the weekend.
Surprisingly, it wasn't Scott Disick's former girlfriend and mother to his three children Kourtney Kardashian that was most upset about the news, but rather Kim Kardashian and momager Kris Jenner. The two women reportedly found Disick's secret side chick to be disruptive and disrespectful, and engaged in a heated argument with him after they found out. I guess this trip was for work and not pleasure.
Anyway, now Scott Disick is soaking the the rays at a different beach. After the blow-up, he left Costa Rica and is now relaxing in Miami... where he's been spotted alongside a bunch of different female companions.
But Scott Disick's supposed playboy lifestyle isn't bothering ex-girlfriend Kourtney Kardashian one bit. Although the two dated for a decade and have three children together, Kardashian is apparently totally over her ex. It seems like they still get along as co-parents to Mason, Penelope, and Reign Disick. Before he left Costa Rica, Scott shared a sweet photo of Kourtney buckling Penelope in for a family helicopter ride, affectionately adding the caption "Mom."
Keeping Up With the Kardashians is known for airing multiple-episode vacation specials where the whole family goes on exotic trips to places like Bora Bora, Thailand, or Greece, and somehow a whole lotta drama always seems to erupt during these arcs. It seems pretty obvious that this season's vacay special is going to chronicle the family's current Costa Rican getaway, although I guess Scott Disick will only be in part of it. Actually, knowing how the Kardashians work, I'm sure his fight with Kim and Kris and his subsequent storming off will be at the center of the whole special.
Your Daily Blend of Entertainment News
Your Daily Blend of Entertainment News
Thank you for signing up to CinemaBlend. You will receive a verification email shortly.
There was a problem. Please refresh the page and try again.