Justin Bieber Assures People He Did Not Pee His Pants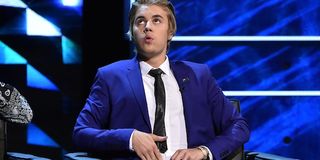 Justin Bieber is certainly no stranger to some pretty embarrassing public antics, but he's laughing off the rumors that he peed his pants earlier this week. Biebs took to Twitter to explain the wet spot on his sweatpants that everyone had been assuming was pee was actually some spilled water.
A photo of Justin Bieber walking around with a large wet spot in a very unfortunate place on his gray sweatpants began circulating the Internet earlier this week, as fans began to joke that Bieber had obviously peed himself. Bieber proved he was able to laugh at himself by posting the paparazzi photo of himself alongside a still of Adam Sandler from Billy Madison, in which he famously argues that it's cool to pee your pants.
But, all joking aside, Justin Bieber went on to clarify that the alleged pee stain is actual the result of spilling some water in a very unfortunate place. Bieber tweeted that he was driving around with some flowers in his lap and the water from the vase spilled on him when he made a turn. I guess he didn't have time to go home and get changed before walking around town with a big, embarrassing wet spot in the middle of his pants? Well, the pee jokes didn't seem to bother him, at least.
Actually, imagining Justin Bieber driving around with a vase full of flowers on his lap might just be funnier than if he really did pee himself.
Of course, this wouldn't have been Justin Beiber's first pee-related incident. Back in 2013, during his heyday as a Hollywood miscreant, Bieber famously peed in a bucket at a restaurant before cursing out former President Bill Clinton. This was also around the time that Bieber was also making headlines for various legal issues, including egging his neighbor's house, being issued multiple DUIs, and even abandoning his monkey in Germany, among other strange instances.
After those few years of erratic behavior, Justin Bieber vowed he was turning over a new leaf in 2015, beginning with a Comedy Central roast to give his old antics one last laugh. To his credit, Bieber has been notably scandal-free in the two years since that announcement. He's focused almost singularly on his music: releasing his hit album Purpose at the end of 2015 and embarking on a world tour that is still in progress. The only bits of drama that he's provided us with is briefly deleting his Instagram and scolding some audience members at his concerts for being too loud when he was trying to speak.
We'll just have to accept that the Justin who would pee his pants is in the past, and the Justin we have now is the type to harmlessly spill flower water on his crotch.
Your Daily Blend of Entertainment News
Your Daily Blend of Entertainment News
Thank you for signing up to CinemaBlend. You will receive a verification email shortly.
There was a problem. Please refresh the page and try again.