Emily Ratajkowski Even Manages To Make Sunburn Look Sexy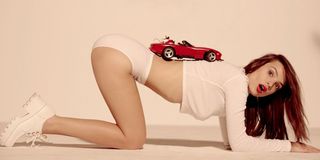 A peek at actress and model Emily Ratajkowski's latest photos will show you she is vacationing it up on some fabulous beaches in Mexico. In recent years, Ratajkowski has built a career on her body confidence, so of course, she has pictures from clothing-optional photo shoots during her latest vacation south of the border. Apparently, after all that time in the sun, 25-year-old Ratajkowski ended up with an unfortunate souvenir--a sunburn. However, the Sports Illustrated swimsuit model somehow succeeded at wearing her sunburn like just another stylish beach accessory. Check out this photo she posted:
After spending the day in the sun, Emily Ratajkowski returned to a shady area to snap an Instagram selfie and show her sunburn to her nearly 12 million Instagram followers. But in true supermodel style, the Gone Girl actress delivered the photo with a smoky eye and a smoldering gaze. What's funny is that the color of the seamless one-piece looks flattering against Emily Ratajkowski's skin, even though she has a sunburn. The gorgeous necklace helps to downplay the "ouch" factor, too. In fact, the picture ends up looking much more beautiful than painful.
In the sizzling photo, Emily Ratajkowski is wearing a luxe swimsuit in a mocha color. The luxury Farrah One Piece swimwear plunges down to Ratajkowski's naval to reveal a rosy red sunburn on her chest. The item is perfect for someone like Ratajkowski because the wearer can tie the straps in several different ways, which theoretically should help her to avoid tan lines. The stretchy, silky material is meant to provide a second skin finish while offering minimal coverage. In other words, the person wearing the suit will look gorgeous, but she should plan to double down on the sunscreen and drink plenty of water.
Emily Ratajkowski has long been an outspoken advocate for body confidence, but she amplified her stance in 2013 when she became uber famous for starring naked in Robin Thicke's "Blurred Lines" music video. Since then, she has been busy acting in films like Entourage and walking in Fashion Week runway shows in New York and Paris for brands like Marc Jacobs and Miu Miu. These days, she loves to show off her amazing figure via social media posts with other stars and in fabulous locations, and she continues to prove that she is a true advocate for the empowerment of women from all backgrounds.
We love beach vacations, so we think the pictures of Emily Ratajkowski's Mexican holiday look dreamy. Have a fun time in the sun, but please don't forget to take care of that beautiful skin of yours and slather on the SPF!
Your Daily Blend of Entertainment News