Melania Trump's Response To Emily Ratajkowski Defending Her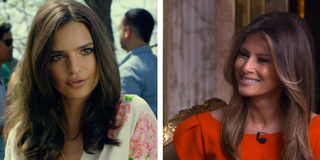 (Image credit: We Are Your Friends, 60 Minutes)
Emily Ratajkowski has been vocal about her distaste for the Trump administration, but that doesn't mean that she's okay with just any insult being flung at First Lady Melania Trump. The model and actress came to Melania's defense when she heard a reporter slut-shaming her, and now Melania is applauding Ratajkowski. Looks like we finally found an issue that does cross party lines.
After Emily Ratajkowski tweeted her outrage at a reporter for calling Melania Trump "a hooker," Trump sent a tweet applauding women who stand up for other women, tagging Ratakowski in it.
Though Emily Ratajkowski fervently supported Democratic nominee Bernie Sanders in the 2016 election, she was still willing to defend Melania Trump in the name of feminism. On Monday, Ratajkowski wrote that an unnamed New York Times reporter was seated next to her at an event, and he referred to Melania as "a hooker." Ratajkowski shared that the comment upset her, saying that no matter someone's politics, it is never okay to slut-shame a woman.
Female empowerment and fighting against slut-shaming have been central to Emily Ratajkowski's voice since she first rose to fame as a nude dancer in Robin Thicke's "Blurred Lines" video. The model and actress has posed nude several times since then (including one time next to Kim Kardashian herself), and uses her nudity as a means to reclaim control of her body.
A day after the Emily Ratajkowski's tweets, Politico identified the unnamed New York Times reporter as features writer Jacob Bernstein, pointing to a string of tweets that he sent in which he apologizes for making "a stupid remark about the first lady." Politico went on to report that the Times editors agree that the statement was inappropriate and have talked to Bernstein about the incident.
It's obviously an incredibly heated time in the political world right now, and of course everyone should be free to speak their mind and critique what they see fit, but let's just keep our comments on the politics and not just throw around senseless schoolyard insults.
Your Daily Blend of Entertainment News
Your Daily Blend of Entertainment News
Thank you for signing up to CinemaBlend. You will receive a verification email shortly.
There was a problem. Please refresh the page and try again.