Emily Ratajkowski Strips Down For A Gorgeous Selfie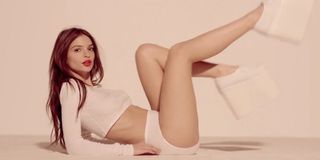 Emily Ratajkowski has made it clear time and again that she is not shy about showing off her body, and now she's making that point again in case it didn't hit home the first few times. The model and actress posted a fully nude photo of herself to her Instagram account on Monday night. Check out the snapshot below.
The new photo shows Emily Ratajkowski's full body in profile in a dimly lit room, as lines of light peek through nearby blinds on a nearby window. Ratajkowski keeps the photo Instagram-approved by covering her breasts with her arms and moving the leg closest to the camera forward a bit.
And that's not the only tease-y photo that Emily Ratajkowski has posted recently. Judging from her Instagram, the actress is currently on vacation at a tropical location and making the most of her time soaking up some sun on the beach. And apparently, she's not there alone. Earlier in the day on Monday, Ratajkowski posted a photo of her backside while she was lounging on the beach, and it included a sandy handprint right on her derriere.
I guess now that Kendall Jenner is recently off Instagram, it's up to Emily Ratajkowsi to keep the app full of sexy pics. And who better is there for the job? The model has always been comfortable showing off her body and used her nudity as a way to tout her support for women's rights.
Though Emily Ratajkowski rose to prominence controversially as a nude dancer in Robin Thicke's 2013 music video for "Blurred Lines," a song that was heavily criticized for objectifying women and buying into rape culture, Ratajkowski has used her platform to fight back against patriarchal notions of femininity. Earlier this year, Ratajkowski used her body to support Kim Kardashian after the reality star was coming under fire for a topless selfie that made certain people uncomfortable. Ratajkowski posted her own topless selfie to support Kardashian, and a few weeks afterwards the two women met up to post yet another topless selfie together, with both of them flipping off their haters. More recently, Ratajkowski posted a topless photo of herself with the words "My body, my choice" written beside her following Donald Trump's election win last week. The photo has been taken to be Ratajkowski's opposition to Trump's campaign promises to defund Planned Parenthood.
Keep up the impressive body of work, Emily!
Your Daily Blend of Entertainment News