The Reason Shia LaBeouf Is Living Alone In A Cabin For A Month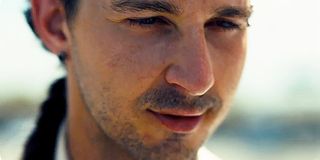 When we last checked in on Shia LaBeouf, we found him in a precarious situation at a bowling alley in Los Angeles. That moment became extra public when people posted videos of him yelling at a bartender. But what a difference a week or two makes. Now the word is that the 30-year-old actor decided to spend a month in an isolated cabin tucked away somewhere in the Lapland region of Finland. The incident at the Pinz bowling alley apparently is not connected to LaBeouf's extended stay in the snowy area. Instead, it turns out LaBeouf is stowing away in the cabin all in the name of art.
Shia LaBeouf partnered with Kiasma, a museum of contemporary art in Helsinki, Finland, to work on a project called #ALLALONETOGETHER. LaBeouf's colleagues, artists Nastja Rönkkö and Luke Turner, are participating in the project, as well. Each of them plans to live alone in different cabins for one month. According to ABC News, the cabins are hooked up to cameras that display what the artists are doing on screens inside a replica cabin at the Kiasma museum, where visitors can send text messages to the artists. Although LaBeouf, Rönkkö, and Turner can respond to the messages, they cannot interact with one another at all.
The trio has teamed up for several serious artistic projects in the past, beginning with their 2014 #IAMSORRY project which kicked off when Shia LaBeouf arrived at the Berlin Film Festival with a paper bag over his head that had the words "I AM NOT FAMOUS ANYMORE" on it. That particular work concluded with a six-day performance at a gallery. Similar to the current #ALLALONETOGETHER project, that first effort was interactive in that people could enter the gallery to see LaBeouf up close and personal while he sat in a tuxedo and cried before them.
It is worth noting that #ALLALONETOGETHER takes place directly on the heels of a controversial, politically-heated performance art work by the trio from earlier this year. That effort led not only to attacks by hackers who posted anti-Semitic rhetoric on the project's website but also threats of violence by neo-Nazis and shadowy internet groups on the deep web. The project had to shut down first in New York, then in New Mexico, and finally in Liverpool. So, LaBeouf and his artist colleagues moved on to work on #ALLALONETOGETHER. However, it appears some of LaBeouf's opponents are still going after him by sending him upsetting text messages at the cabin in Finland.
This project sounds intriguing, so we can only hope that Shia LaBeouf can keep his cool despite the inevitable feelings of loneliness he may encounter in Finland and the barrage of text messages, good and bad, that come his way. After what happened at the bowling alley in Los Angeles, LaBeouf probably does not need any more negative press. We'll keep an eye on this project and let you know if any other news comes to light.
Your Daily Blend of Entertainment News
Thank you for signing up to CinemaBlend. You will receive a verification email shortly.
There was a problem. Please refresh the page and try again.