The Weird Way Meghan Markle Will Attend Pippa Middleton's Wedding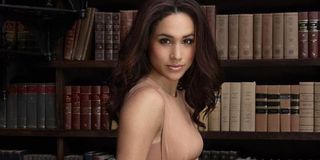 A representative for Pippa Middleton, the sister of Kate Middleton, the Duchess of Cambridge, recently revealed details about the guest list for Pippa Middleton's upcoming wedding to her hedge-fund manager fiancé, James Mathews. That announcement included the adorable news that Pippa Middleton invited her royal nephew and niece, Prince George and Princess Charlotte, to participate in the non-royal, private wedding on May 20. Still, questions abounded regarding who else might attend. For example, would Pippa Middleton allow Prince Harry to attend with a plus one? If so, would the plus one be Prince Harry's girlfriend, Suits actress Meghan Markle? Now we have more insight into that particular aspect, and it looks like the answer is yes---mostly.
Pippa Middleton did give Meghan Markle an invitation to the wedding reception at the £6million home of the Middleton sisters' parents in Bucklebury, Berks, according to People. However, Middleton did not extend an invitation for Markle to attend the ceremony itself, which will be held earlier in the day at St. Mark's Church in Englefield, Berkshire. There is some logical reasoning behind the decision. Even though it will be a non-royal, private event, there is still keen interest in the occasion, especially because two potential future kings--Prince William and his son--have invitations to attend along with Kate Middleton, who could one day go by Queen Catherine. As such, Pippa Middleton has to juggle the complications of a private wedding with the complexities of the formal rules of the throne. She most likely wants to keep her wedding small, but she probably also had to follow the protocol of "no ring, no bring," meaning there should be no guest list plus ones for people not married or engaged to an invited person.
Moreover, Prince Harry's relationship with Meghan Markle is relatively new to the public spotlight, so it would make complete sense for Pippa Middleton to ask him to attend the ceremony without a guest but allow him to bring someone to the after party. Some reports suggest Prince Harry and Markle have been together for a while, but they started taking things public just last autumn. So, in the grand scheme of things, theirs is a budding relationship. Then again, the fact that Markle did receive an invitation to attend the after party could indicate that she and her royal beau are getting serious in their relationship, whether or not it's new love. In fact, this year, Prince Harry opted out of joining Queen Elizabeth II, Prince William, and Kate Middleton at the traditional royal services for Easter at St. George's Chapel. Instead, he flew all the way from England to Canada to spend the holiday with his sweetie pie in Toronto, where Markle films scenes for Suits.
So, we now know that Meghan Markle has an invitation to attend James Mathews and Pippa Middleton's wedding reception. We are aware Middleton gave Prince George the job of page boy and Princess Charlotte the role of bridesmaid. Nevertheless, some questions about the guest list remain. For instance, it is unclear whether the brother of James Mathews, British television personality Spencer Mathews, from the show Made in Chelsea, will attend the wedding with a plus one and if that plus one will be his British reality-show personality, Vogue Williams. Perhaps Williams will receive the same kind of invitation that Middleton extended to Meghan Markle?
We will have to wait and see. Check back here for all the news on this special fairytale wedding.
Your Daily Blend of Entertainment News
Thank you for signing up to CinemaBlend. You will receive a verification email shortly.
There was a problem. Please refresh the page and try again.