Adorable Alert: Prince George And Princess Charlotte Will Be In Pippa Middleton's Wedding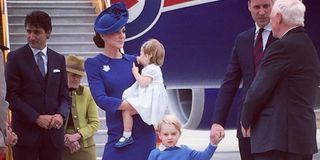 Pippa Middleton shot to fame when she participated as a bridesmaid in her older sister Kate Middleton's wedding to Prince William in 2011. Now Pippa Middleton is preparing for her turn to walk down the aisle to marry her fiancé, James Matthews, who operates a hedge fund in London, England. The pair confirmed their engagement last July, and from the sounds of it, their wedding is going to be an unforgettable extravaganza despite the fact that it will be a non-royal private ceremony. So far, the guest list includes the Duke and Duchess of Cambridge as well as Prince Harry. Plus, there now are two delightful additions to the party: three-year-old Prince George will be a page boy, while two-year-old Princess Charlotte will be a bridesmaid.
The wedding of Pippa Middleton and James Matthews will take place at St. Mark's Church in Englefield, Berkshire on the morning of Saturday, May 20. Afterward, the group will move for a lavish reception at the £6million home of the Middleton sisters' parents in Bucklebury, Berks. Kensington Palace has been quiet about the details of the event because it will not be a royal wedding, but that seems to work well with Pippa Middleton's plan for a private occasion. Pippa Middleton did hire a publicist to take care of major announcements, such as the news about Prince George's and Princess Charlotte's special roles in the wedding. The publicist has not confirmed what role the mom of the two toddlers will take in the wedding, but many people have speculated Kate Middleton will be the Matron of Honor, although BT (opens in new tab) says that may not be true.
In fact, there are still some fairly important guest list questions up in the air. First, Prince Harry is expected to attend the event; however, because Kensington Palace has pressed the mute button when it comes to questions about the wedding, there is no confirmation regarding whether or not he will attend with a plus one. If he were to bring someone, that hypothetical date could be American actress Meghan Markle, whom Prince Harry began dating last summer. Secondly, we know there is an invite for the brother of James Matthews, British television personality Spencer Mathews, who starred on the show Made in Chelsea. But there is no confirmation about any invitation for his girlfriend, British reality-show personality Vogue Williams. Some say she is not invited because Pippa Middleton is keeping a tight grip on the reins of the event.
But it would make complete sense if Pippa Middleton were being picky about the guest list. After all, she is trying to organize a non-royal wedding with royal guests and worldwide media attention. Plus, this high-society wedding will truly be a moment for the history books because two potential future kings--Prince George and his father, Prince William--will be in attendance. What we have heard thus far sounds incredible, and we think it is adorable that Prince George and Princess Charlotte will not only attend the wedding but also have roles in it. We can hardly wait to see the two little tots in their cute outfits, but of course, we are even more excited to see what the royal guests and the happy couple wear on the big day. We'll keep you posted with updates on the event.
Your Daily Blend of Entertainment News
Thank you for signing up to CinemaBlend. You will receive a verification email shortly.
There was a problem. Please refresh the page and try again.