Patriot Aaron Hernandez's Home Searched In Connection With Homicide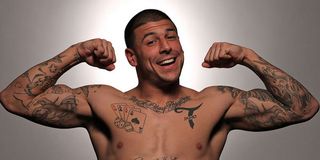 Massachusetts area police still haven't released many details about the murder Patriots tight end Aaron Hernandez has been linked to, but the little tidbits they have released are more than a bit suspicious. Apparently, a rental car spotted near the scene of the murder traces back to the former NFL Pro Bowler, and when police first contacted him to get some information, he was allegedly very uncooperative.
The victim's identity has not been made public, but according to ESPN, authorities are referring to him as an "associate" of the football star. Whether that means he was a legitimate friend or a friend of a friend is unclear. Either way, while Hernandez hasn't been named a suspect, it doesn't look like this investigation is going away anytime soon.
As part of said investigative efforts, authorities descended on Hernandez's home yesterday to execute a search warrant. While there, they reportedly removed one box of items from the home and stopped two of Hernandez's friends who tried to leave the scene in a vehicle. Maybe they were trying to GTFO because they had something to hide. Maybe they were starving and wanted to go to Arby's. Neither has spoken publically about what their motivations were; so, there's really no way to know what could have possessed them to try and sneak off during a property search.
Last week when the Patriots signed Tim Tebow, it was widely assumed that story would dominate media conversation at the hyper-successful team's training camp, but Tebowmania doesn't hold a candle to murder investigations and rightfully so. Consequently, until there's some kind of resolution or the police shift their focus away from Hernandez and his buddies, it seems likely this situation will overshadow anything the Pats try and do over the next few months.
Together with Rob Gronkowski, Hernandez is part of one of the most formidable tight end duos in the history of the National Football League. Recently, both men were rewarded with huge new contracts, Hernandez's for five years and forty million dollars. In the NFL, however, that money isn't guaranteed; so, if something were to happen with this investigation that left him unable to play, he would likely be out an incredible amount of money.
It's hard to tell where this investigation will go from here because at this point, it's impossible to know whether the authorities are fixated on Hernandez himself or one or more of his friends who could possibly be involved. Hopefully, after the thorough search of the house and interviews they're planning to conduct with all involved, they'll be able to narrow the field and figure out who is really in the crosshairs of the investigation. We will keep you updated. Until then, here's to hoping the police catch whoever was responsible for what happened.
Enthusiastic about Clue, case-of-the-week mysteries, the NBA and cookies at Disney World. Less enthusiastic about the pricing structure of cable, loud noises and Tuesdays.
Your Daily Blend of Entertainment News
Thank you for signing up to CinemaBlend. You will receive a verification email shortly.
There was a problem. Please refresh the page and try again.