How Harry Styles Feels About Zayn Malik Trashing One Direction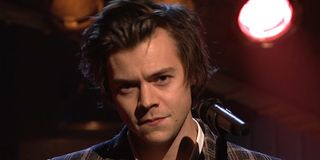 Before One Direction split up in 2015, Zayn Malik quit the band to release a solo album. In interviews, Malik made no qualms about his distaste for One Direction. The singer admitted he hated the music produced by his former band, and also indicated he found the sound of 1D uncool, explaining he would never choose to listen to his former band's songs. But now Malik is not the only former One Direction star stepping up for a solo career. Harry Styles is prepping an album with plans for a big release in May, and as such, Styles is getting his turn to talk in promotional interviews. In one, he even fielded questions about Malik and those biting remarks. Here is what the "Sign of the Times" singer had to say about Malik:
Harry Styles shared thsee calm, collected well wishes in an interview with Rolling Stone. The magazine caught up with the 23-year-old singer while he was busy with behind-the-scenes promotion for his forthcoming album. Grammy-winning producer Jeff Bhasker, who has worked with the likes of Bruno Mars and Kanye West, is helping Styles whip up his first solo album, which does not yet have a title because Styles is taking the time to make sure everything he gets it just right. So far, so good, if the new single is any indication. Even Styles's great answer about his former One Direction pal is just right.
But kindness does not seem too hard for Harry Styles. In fact, the way he handled the topic of Zayn Malik might not come as a big surprise to people who have watched Styles manage other dramas in the public eye. Around 2012, for example, Styles dated and split from Taylor Swift, who reportedly wrote songs about him after they broke up. He mostly handled that moment with class and even praised Swift's songs. Then Styles spent some time in relationship limbo with Kendall Jenner a couple of years ago. All the while, Styles kept his words cordial and light. Now he is suggesting that Swift might even be a muse for some of his new songs.
So, it sounds like we can discount any alleged feuding between Harry Styles and Zayn Malik as nothing more than tabloid fodder. This guy seems to have a pretty good idea of how to leave the past in the past and move forward in a happy, healthy way. It is always great to see artists take the high road. We'll be watching Harry Styles as his big album release approaches.
Your Daily Blend of Entertainment News