Harry Styles' First Big Solo Gig Just Got Announced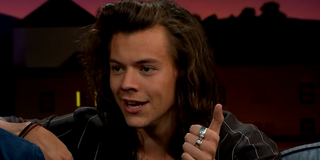 When One Direction split in 2015, fans were left to wonder what heartthrob Harry Styles would do next. Would he make and promote a solo album? Would he collaborate with anyone famous? Would his songs be about anybody we know? Now, thanks to Saturday Night Live, we have a pretty good idea about at least one of those questions. Apparently, SNL had a big surprise up its sleeve because yesterday the show announced via social media that the musical guest to join host Jimmy Fallon next month would be Harry Styles in his first solo gig since the boy band stopped being a boy band.
SNL took to Twitter to announce the news, which adds to the huge buzz swirling around 23-year-old Harry Styles' first solo outing away from One Direction. In fact, the buzz is coming from a lot of different directions, not just one. We also learned that Columbia, which handles big names like Adele and Beyonce, will manage Styles' record. CEO of the company Rob Stringer added to the excitement that is building in advance of the release in an interview with Billboard. Here's what Stringer had to say:
These words mirror the buzz from other industry new outlets, which are saying that Harry Styles is crafting an album that has a 1970s British rock attitude like David Bowie or Queen. Supposedly, the lead single sounds like something that could be a timeless smash hit. Assumedly, we'll find out soon enough what Harry Styles' solo sound is like with the big SNL gig.
Of course, Styles is not the first One Direction star to take his career solo. Last year, Zayn Malik quit the group, dropped his last name, and released Mind of Mine, an R&B album which topped some charts around the world and received positive attention from critics. Based on the buzz, it sounds like Harry Styles will take a sonically different route than Zayn and add some variety to the post-band stylings of the One Direction guys.
We think this new album has "potential hit" written all over it. In fact, Zayn's album was incredible, and it sold millions of copies despite some mild backlash from fans who felt disappointed because he quit One Direction to make it. Without any of that noise standing in front of Harry Styles, he should be on his way to mega-success with his debut album, and we are here for it every step of the way.
Your Daily Blend of Entertainment News