Sarah Michelle Gellar Reveals She Suffered From Postpartum Depression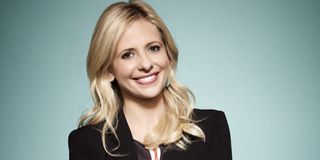 Former Buffy the Vampire Slayer and The Crazy Ones star Sarah Michelle Gellar has revealed that she experienced postpartum depression after the birth of her first child, Charlotte Grace Prinze. The 40-year-old actress took to social media to explain her struggle with a form of depression that 11-20% of women experience after giving birth. Gellar broached the caption in a gentle manner, and the message turned out lovely. Check out what Gellar had to say:
Sarah Michelle Gellar shared the encouraging post with her 1.5 million Instagram followers. Gellar and her husband, actor Freddie Prinze Jr., also have a four-year-old son, Rocky James Prinze. In other words, Gellar knows a thing or two about what it is like to have a child. The Cruel Intentions actress's intent behind the social media post was to bolster conversation about the health care bill recently passed by the U.S. House of Representatives, especially related to how postpartum depression is treated.
Now Sarah Michelle Gellar joins a list of other women in Hollywood who are making their stories about postpartum depression known. Earlier this year, the cohost of Lip Sync Battle Chrissy Teigen opened up about her battle with postpartum depression. Some months ago, superstar singer Adele also talked about her battle with postpartum depression after the birth of her son. Hayden Panettiere, Courtney Cox, Brooke Shields, Alanis Morissette, and Celine Dion have talked about it. Kristen Bell opened up about her experience and said she felt disconnected from her daughter because of postpartum depression. Moreover, the potential future Queen of England, Kate Middleton (i.e. Princess Catherine, Duchess of Cambridge) even talked about ways motherhood was lonely for her after she gave birth to Prince George and Princess Charlotte.
It is heartening to see Sarah Michelle Gellar and other women in the public eye getting real about this real and debilitating form of depression. The gentle way Sarah Michelle Gellar approached the topic was beautiful. By speaking up about her personal experience and speaking out on behalf of mothers everywhere, Gellar is helping to normalize this natural, serious, treatable concern.
Your Daily Blend of Entertainment News
Thank you for signing up to CinemaBlend. You will receive a verification email shortly.
There was a problem. Please refresh the page and try again.