Chrissy Teigen And John Legend Vacationed In Morocco And The Photos Are Gorgeous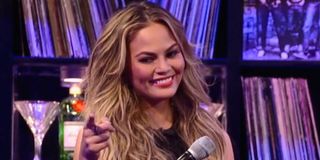 Updates from Chrissy Teigen's vacation show that she and her husband, Grammy-award-winning musician John Legend, had an absolute ball in Morocco this month. The 31-year-old co-host of Lip Sync Battle took to social media to share photos of her growing family enjoying the Moroccan desert in style, and now we have some serious travel goals. Let's recap some of the highlights.
The series of photos began with a luxurious snapshot of Chrissy Teigen and John Legend in Marrakech. The married duo stood by a riad archway, emblematic of decadent Moroccan design and complete with patterned tiles. The design of the building makes us want to hop on a plane (or perhaps a magic carpet) to the fascinating location for some R&R. While Legend sported a semi-casual suede jacket in this photo, Teigen amped up the glam factor in a magnificent mustard yellow gown that draped in all the right ways. Sure, Legend is already the male vocal joining Ariana Grande on the new Beauty and the Beast soundtrack, but this photo puts us in "A Whole New World," Aladdin-style.
Now we have to talk about this photo with Chrissy Teigen and a camel. Nothing says "exotic adventure" like pictures with a caravan of camels. Teigen's high-fashion look here was flaw free with a tight hairstyle, hoop earrings, and a golden belt over a dark, silky dress. We love the dark lip, too. Wondering how the natural beauty managed to look so chic on vacation in the desert with a baby in tow? Well, per Vogue, it was the second time Teigen and Legend traveled to Morocco, so they came prepared with photographer Mike Rosenthal and hairstylist Jen Atkin, who helped them document each extraordinary moment.
And, of course, here is Chrissy Teigen riding the camel! Teigen is known for being super down to earth and quite candid, so we wonder if she will reveal details about what exactly was happening in these photos. We want to know where they were going on those camels!
Sometime that same day, Chrissy Teigen snapped a photo in front of this fountain with an elaborate Moroccan pattern of tiles. However, the real showstopper here is Teigen, who looks spectacular from head to toe.
Finally, be sure to check out this photo Chrissy Teigen posted of herself holding her little sweetie pie, Luna, who is already 11 months old, if you can believe it. Teigen loves kids, so photos like this one fill our heart with joy. (One of Teigen's Instagram photos shows Luna with her first hair bow. Aw!) We love the hot pink pashmina Teigen wrapped around her daughter as they strolled through a market of fresh spices. The pashmina even matches Luna's shoes! We can almost smell the scent of those nuts and berries and spices behind Teigen. Is anyone else suddenly in the mood for a spicy chai latte?
Your Daily Blend of Entertainment News