Is Adele Done Touring? Here's What She Says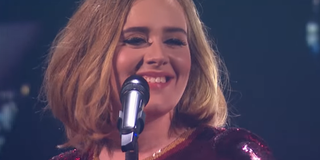 We did not need additional evidence to know Adele is one of the most down-to-earth superstars in music these days, but the living legend went ahead and gave us proof anyway. For the final night of the Australia and New Zealand leg of the Adele Live 2017 tour, inclement weather swept in and tried to ruin the show. A lesser artist would have canceled the show, but a storm couldn't stop Adele from putting on a poncho over her gown and taking the stage. After all, we're talking about Adele, a true blue musician with plenty of touring experience. Although she seems to be a pro at touring at this point, Adele announced to her audience how lucky they were because in fact she might never go on tour again. Here is what the vocal goddess had to say:
According to News.com.au, which reported on the rainy show in New Zealand, Adele's tour grossed more than $200 million from its UK, European, and North American shows, so we imagine her management team is probably not in love with the idea that Adele might bring things to a halt after this trip around the world. However, it sounds like they have known about Adele's tour exhaustion for a while. Live Nation Chairman Michael Coppel, the local promoter for the show in Australia and New Zealand, added:
True, no one--not even Adele--knows what the future holds. It's also true that Adele has experienced similar uncertainty in the past. Apparently, there were times when Adele thought a third album would not happen after the birth of her son. Boy, was she wrong, so maybe she will be wrong about this feeling and eventually tour again down the road. At the same time, Adele is one of the few music artists who does not rely on sales from tours to thrive. Her first album, 19, sold seven million copies. Her latest album, 25, has sold 20 million. The masterpiece in the middle, the classic 21 with its timeless singles "Rolling in the Deep" and "Someone Like You," is up there with a mountain of 55 million copies sold. In other words, it stands to reason that Adele could move home, never tour or give any notable live performances again for years, and release music from her living room knowing it would still dominate the radio and reach every corner of the world.
It feels like just the other day Adele was saying "Hello," and now she may be saying goodbye. She hopefully won't go that route, though. Hopefully, she will enjoy the rest of her days on the road. Then she can decide what to do after some much-needed R&R. I'm sort of wishing an announcement like this one could be a way to prepare us for an Adele residency somewhere. Something like what Celine and Britney have achieved in Las Vegas would be great for a Adele, a megastar with a growing family. Pick a city, Adele, and let us come to you.
Your Daily Blend of Entertainment News