How Celine Dion Will Celebrate Titanic's 20th Anniversary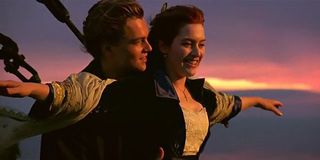 As crazy as it may seem, James Cameron's Titanic will turn 20 this year. The film has become utterly iconic over the years for its groundbreaking special effects, its astronomical box office gross, and for catapulting Leonardo DiCaprio and Kate Winslet to A-list stardom. However, it's also legendary for one other particular facet: Celine Dion's classic ballad, "My Heart Will Go On." The love song has become one of the most famous pieces of movie music of all time, and we've officially learned that Ms. Dion will soon take the stage to belt out the beloved tune once more in honor of the film's anniversary.
According to Billboard, Celine Dion is about to honor the legacy of Titanic in a major way with a performance of the film's famous theme song. The event will go down later this month at the Billboard Music Awards on May 21, so we're sure Ms. Dion is already in the process of preparing her vocal chords to capture the same passion that she managed to achieve in 1997 when the song first debuted. As of right now, there's no word as to whether or not the performance will include doors too small to fit two people or steamy car windows, but the performance of the song alone should prove enough to get fans of James Cameron's epic love story very excited.
The legacy of "My Heart Will Go On" has been firmly cemented by its critical and commercial success. Following its release to accompany the premiere of Titanic, the single went on to win the Academy Award for Best Original Song, two Grammys, and it handily turned into one of the most successful singles of Celine Dion's entire career. The use of the song in Titanic's marketing campaign went on to inspire numerous imitators (such as Aerosmith's "I Don't Want To Miss A Thing" for Armageddon), and it has carved out an ironclad legacy as one of the most iconic movie songs of all time.
You look like you could use some Celine Dion in your life right now. Check out the clip below to listen to the song for yourself.
Of course, the immense iconography of "My Heart Will Go On" has also turned into the song's worst enemy in the years since it debuted. The tune has in many ways evolved into a parody of itself for the corniness of the lyrics, and that has made it perfect for use in parody videos all over the web. Having said that, it's still fairly impressive that a 20-year-old song has managed to persist and take on new life in today's meme-based culture.
With the knowledge that Celine Dion is about to perform one of her greatest hits to commemorate the legacy of Titanic, I think it's safe to say that I will be tuning into the Billboard Music Awards on Sunday, May 21 at 8 p.m. ET on ABC to watch it all go down. We'll never let go, Titanic. Ever.
Originally from Connecticut, Conner grew up in San Diego and graduated from Chapman University in 2014. He now lives in Los Angeles working in and around the entertainment industry and can mostly be found binging horror movies and chugging coffee.
Your Daily Blend of Entertainment News
Thank you for signing up to CinemaBlend. You will receive a verification email shortly.
There was a problem. Please refresh the page and try again.