Star Wars' John Boyega And Others Forced To Evacuate After Bomb Threat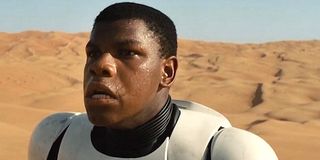 It has been days since the fatal bombing at Manchester Arena, yet London has already faced another frightening situation. On Saturday, May 27, a bomb scare compelled the Old Vic theatre in Lambeth, central London, to evacuate all of its guests and performers, including Star Wars actor John Boyega. The 25-year-old movie star and his fellow cast and crew members joined the many theatergoers in rushing away from the dubious scene.
Apparently, police received word of a concerning object in the Old Vic theatre, a traditional London playhouse built in the nineteenth century. Two production associates supposedly stopped the show not long into the performance and made the guests aware of the concern. Then, as the Daily Mail tells it, the Old Vic's staff members, in their brightly colored jackets, escorted everyone out of the theater and directed people to safety at the Imperial Museum gardens.
News of the bomb scare caused other local establishments near the theatre, such as several pubs and restaurants, to shut their doors as well while authorities secured the neighborhood. Onlookers reportedly watched as more than 1,000 people, including John Boyega and the play's other cast members, scurried from the first location to the second. In the wake of the incident, the Old Vic Theater made several statements via social media to explain, tweeting,
About twenty minutes after the Old Vic posted its first statement to Twitter, the theatre updated that the police had resolved the situation without finding anything suspicious. Moreover, the theatre said the show would go on as scheduled.
By coincidence, the United Kingdom reduced its terrorism threat level from "critical" to "severe" earlier on Saturday. Still, the UK remains tense and vigilant when it comes to bombing threats. People continue to mourn the tragic losses of the nearly two-dozen people who perished as a result of the recent suicide bombing outside the Manchester Arena after an Ariana Grande concert. Furthermore, London has been on guard regarding terrorist incidents since last October, when authorities purportedly were called to perform a controlled explosion on an explosive device a passenger of the London Underground discovered. So, it sounds like the authorities and the staff members responded in an efficient manner.
Fans of the Star Wars franchise know John Boyega as Finn, a stormtrooper from Star Wars: The Force Awakens. Moviegoers will see him reprise his role in the upcoming Star Wars: The Last Jedi, which is slated for release this December. However, he was at the Old Vic to play the lead role in the classic 1879 play Woyzeck by Georg Büchner. But during the incident, Boyega was but another nervous face in the crowd. Thank goodness everyone was all right.
Your Daily Blend of Entertainment News