Ariana Grande, Taylor Swift, And Other Celebrities Respond To The Manchester Bombing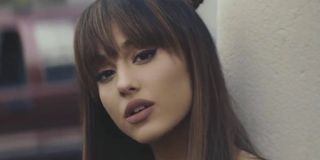 News continues to pour in about the bombing attack after the Ariana Grande concert at the Manchester Arena in England, where at least 22 people were killed and 59 people were injured. Grande took to social media to express her sorrow after the terrifying events. The 23-year-old songstress posted,
Ariana Grande posted the words of heartache to Twitter, where she received a flood of support from followers reminding her the alleged terrorist attack was not her fault. Other celebrities also raced to social media to send sympathetic messages to the victims, their families, Ariana Grande, and more. For example, Taylor Swift tweeted,
Nicki Minaj had kind words of support for the victims and their families but also reached out to her "sister," Ariana Grande, with whom she has collaborated on hit songs such as "Bang Bang." Minaj tweeted,
Katy Perry chimed in, expressing grief not only for the families and Ariana, but also for people everywhere. The 32-year-old singer tweeted,
Former One Direction member Harry Styles took a moment from his fledgling solo career to send a supportive message in solidarity. He tweeted,
Mandy Moore sent prayers to everyone affected by the tragedy and also expressed gratitude for first responders. The This Is Us star tweeted,
Other notable messages came from stars such as Justin Timberlake, who expressed that society needs "to do better," and Manchester native Simply Red, who called the people behind the attacks "brainwashed misfits." But it was not only celebrities who made statements. Pope Francis wrote a telegram for the victims and expressed "heartfelt solidarity" with them. Leaders of several countries released statements about the attacks. British Prime Minister Theresa May made a statement from her home, while France's President Emmanuel Macron tweeted a message of support, as did Canada's Prime Justin Trudeau, who tweeted,
According to reports, Ariana Grande's concert ended around 10:30 p.m. on Monday, May 22, and shortly after, two explosions occurred just outside the venue in a public space. The police received calls about the explosions shortly thereafter. The authorities did identify the person allegedly behind the bombing, and they arrested a 23-year-old man who might have a link to the attack. The explosions sent the concertgoers into panic, and the arena reportedly fell into a state of pandemonium with people fleeing for their lives by running down the street despite the standstill traffic.
Everything about the events sound awful, so it is good to see celebrities and leaders sending messages of love. We will keep you posted about any updates.
Your Daily Blend of Entertainment News