Princess Charlotte Is Turning 2, Check Out The Adorable Birthday Picture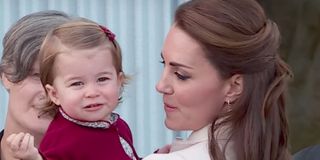 Today we are sending happy birthday wishes to the youngest member of the royal family, Princess Charlotte. The royal family took to social media to share a lovely photo of their little lady in advance of her May 2 birthday. We always love to get a peek into the world of the royals. Check out the image here, and continue reading below for details:
Prince William and Kate Middleton (i.e. Princess Catherine, the Duchess of Cambridge) shared the photo via official social media accounts, including Kensington Palace's Twitter, to honor Princess Charlotte's second birthday. The Duchess took the picture in April at the royal family's country home, Anmer Hall, in Norfolk. The Duke and Duchess have called Norfolk home for quite a while now because Prince William has been busy working with the East Anglia Air Ambulance as a helicopter pilot (and donating his salary from the job to charity, because the royal family is delightful in that way). The family recently announced plans to move back to London to take over engagements for 91-year-old Queen Elizabeth II, so it is fun to see them making a few more memories in the fields around their the country home.
For the photo, Princess Charlotte's royal mother and father dressed their birthday sweetie pie in a knitted yellow sweater with an adorable pattern of blue lambs on it, and they added a dark blue bow to her hair to match. Many people showed up online to send Princess Charlotte happy birthday wishes, and the royal family responded in turn, writing:
We love it when the Duke and Duchess of Cambridge share fun moments with their growing family. Although the royal family does a great job of keeping royal matters transparent by offering glimpses behind the scenes, they do keep up a protective shield around Princess Charlotte and her elder brother, Prince George (who is already old enough to begin school in September, if you can believe it). They do so to give their little ones as normal an upbringing as possible. Nevertheless, Prince William and Kate Middleton make fantastic efforts to reach out to the public, and it is refreshing how real they are about the causes they deem valuable, such as raising awareness of mental health causes through their Heads Together campaign.
While they remain ultra chic and sophisticated, they manage to seem like down-to-earth folks with whom we could have brunch and surprisingly find a lot of things in common. We hope the day was special for the whole family. Happy birthday, Princess Charlotte!
Your Daily Blend of Entertainment News
Thank you for signing up to CinemaBlend. You will receive a verification email shortly.
There was a problem. Please refresh the page and try again.