One Thing Princess Kate Is Worried About With Pippa Middleton's Wedding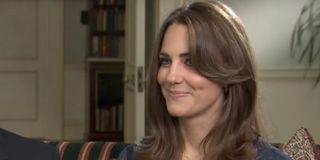 Pippa Middleton is set to tie the knot with her hedge-fund operator fiancé James Mathews this Saturday. The wedding will not be an official royal event, but the private wedding will be a star-studded occasion with both celebrity guests and royal participants. In fact, three-year-old Prince George will be a pageboy, and two-year-old Princess Charlotte will be a bridesmaid. This idea sounds adorable. However, it reportedly is a source of some concern for the children's mother. Kate Middleton (i.e. Princess Catherine, the Duchess of Cambridge) has reservations about her young ones participating in her sister's wedding, because she worries they could misbehave during the ceremony. Here is what someone allegedly close to the story had to say:
People reported the statement from Andrew Bates, one of the 8,000 attendees of the annual Buckingham Palace garden party, which Kate Middleton attended on Tuesday with her husband, Prince William. Princess Catherine sounds more and more relatable with every report we hear about her. What mom would not worry about her young kids participating in a family member's wedding---not to mention a wedding with media attention attached to it? But it is not the first time we have heard about the Duchess of Cambridge being a relatable parent. Last month, during a meeting for the royal family's Heads Up campaign to raise awareness about mental health issues, the potential future queen shared how motherhood feels lonely for her from time to time.
The wedding will take place this Saturday morning at St. Mark's Church in Englefield, Berkshire. The ceremony will precede an extravagant reception at the £6million home of the Middleton sisters' parents in Bucklebury, Berks. Reports have indicated the brother of James Mathews, British television personality Spencer Mathews from the show Made in Chelsea, will attend the ceremony along with Prince William, Kate Middleton, and Prince Harry. Moreover, we know Prince Harry's girlfriend, American actress Meghan Markle of Suits fame, will join for the reception. Reportedly, organizing the non-royal private wedding has been tricky for Pippa Middleton, because there are a lot of moving parts concerning royal guests and attention from the international media. So, any worry Princess Catherine may have undoubtedly comes from wanting her sister's event to be fantastic.
Hopefully, everything will go off without a hitch as Pippa Middleton and James Mathews get hitched. We bet Prince George and Princess Charlotte will do a great job with help from their loving family, and we are excited to see news about the event.
Your Daily Blend of Entertainment News
Thank you for signing up to CinemaBlend. You will receive a verification email shortly.
There was a problem. Please refresh the page and try again.