Jaden Smith Made A Batman Music Video, Of Course It's Weird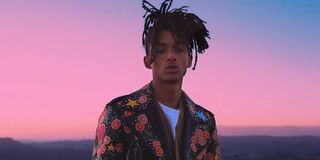 Jaden Smith has released a new creative project, a music video of a track called "Batman." In the video, the 18-year-old son of Academy Award-nominee Will Smith and actress Jada Pinkett Smith gets weird. He sports a white Batman costume, rides around town in a luxurious white Tesla that looks like the Batmobile, and has a mock battle with street performers who are dressed up as Batman and Superman on the Hollywood Walk of Fame. It's a spectacle, for sure. Check it out:
So, the song itself is similar to Drake's "Jumpman," as Jaden Smith uses three repetitions of "Batman, Batman, Batman" in place of "Jumpman, Jumpman, Jumpman." The delivery and style are also similar to Drizzy's track. No, the lyrics are not Shakespearean, but the background has an engaging beat, and the video is interesting to watch because it is evident Jaden Smith enjoyed himself a lot while working on the project from start to finish. Still, there are plenty of weird moments.
Perhaps Jaden Smith posted the video as a tribute to Adam West, the actor who played Batman in the 1960s television series Batman and its 1966 movie. Adam West passed away on June 9, 2017. After posting the "Batman" music video, Jaden Smith took to Twitter to post a series of tweets about the project, and in one of them he thanked Adam West and tweeted,
Moises Arias was the director of the "Batman." Arias was a child star on Hannah Montana with Miley Cyrus before he became a successful Instagrammer. Also, in the video, Jaden Smith still has his dreads. It suggests he filmed this video before he cut off his dreads and brought them as an accessory to the 2017 Met Gala at the beginning of May. If you haven't actually watched the video yet, here's Smith in all his Batman glory.
It is not the first time Jaden Smith has worn the white Batman costume. He wore it to Comic-Con in San Diego in July of 2016. He wore it to prom and accessorized it with a cream blazer and a matching tie. In fact, he even wore it to Kim Kardashian and Kanye West's wedding. Despite regularly wearing the unusual getup--or perhaps for that reason--Jaden Smith found himself among accomplished Hollywood celebrities such as George Clooney, Brad Pitt, and Kanye West on GQ's list of the 20 Most Stylish Men Alive.
Over the years, Jaden Smith and his sister, Willow Smith, have made headlines for their statements, which sometimes border on boasting. Both have dipped their toes into acting and music, and now with this track, we have a better glimpse at what a music career by Jaden Smith might sound like if he decides to pursue it in earnest. We'll have to stay tuned to see if he decides to continue following in his dad's early footsteps and make more music.
Your Daily Blend of Entertainment News
Your Daily Blend of Entertainment News
Thank you for signing up to CinemaBlend. You will receive a verification email shortly.
There was a problem. Please refresh the page and try again.