What John Mayer Thinks Of Katy Perry Ranking Him Her Top Lover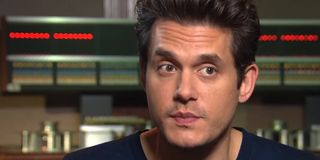 Not long ago, Katy Perry said John Mayer was the "best lover" she had ever had. However, in a new interview, Mayer was not impressed when he heard the compliment from his former flame. The 39-year-old singer-songwriter let everyone know he had moved on and left Perry in the past. In fact, Mayer pretty much refused to indulge Perry's flattering words and told the interviewer,
Hmm. It is interesting John Mayer was so indifferent about Katy Perry in this Rolling Stone interview. Because earlier this year he was tossing out pleasantries about Katy Perry, and indicating the fallout of his relationship with the "Chained to the Rhythm" pop star was something he regretted. Mayer even said he had Perry in mind as the muse for his song "Still Feel Like Your Man," which is a breakup song about having a difficult time moving on from a past love.
Katy Perry ranked John Mayer the "best lover" in an interview with James Corden during her promotional efforts for her latest album, Witness. Corden asked the future American Idol host to rank Orlando Bloom, Diplo, and Mayer in the sack. Before listing the three men, she said all three were great lovers, and she would have sex with each of them again in the future. She ranked Mayer the best. Bloom came in second, while Diplo trailed third.
John Mayer's relationship with Katy Perry burned hot and fast. He had previously dated Taylor Swift, with whom Perry was friendly. However, by the time Mayer and Perry had hooked up, the "Bad Blood" was boiling between Perry and Swift. Mayer and Perry struck up a relationship after her divorce from comedic actor Russell Brand. They did not last a long time, but they gave the tabloids plenty to use. Then, months after they had broken up, there was news they were still in a relationship. Around then, Mayer and Perry released the duet "Who You Love," but the relationship permanently fizzled out after a few weeks.
Because of John Mayer and Katy Perry's history, it was intriguing to hear both musicians say nice things about each other this year. It led some people to wonder if there might be a rekindling one day. But it seems like a romantic reunion will not be happening. Then again, hearing Mayer say he is in a better headspace today than he was back then is a lot better than hearing him express melancholic words about a former flame.
So thanks, but no thanks, Katy Perry. John Mayer has moved on for good, or so it seems.
Your Daily Blend of Entertainment News