John Mayer Reveals He Still Isn't Over One Famous Girlfriend In New Single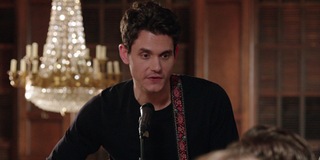 Over the years, John Mayer has dated a handful of famous women, from Cameron Diaz to Jennifer Aniston to Taylor Swift. However, only a few short years ago, Mayer's tabloid-ready relationship with one "Hot N Cold" star had us all wondering what would happen next. Now Mayer is opening up about that particular relationship in advance of his upcoming seventh studio album, The Search for Everything, which is scheduled to be released on April 14, 2017. The album includes Mayer's latest single, a soulful breakup song called "Still Feel Like Your Man," in which Mayer sings about finding it difficult to move on from a past relationship. Fans everywhere had to know who exactly inspired the song, so in a recent interview, the singer-songwriter put caution to the wind to admit that his muse was, in fact, Katy Perry.
John Mayer made the revelation in an interview with The New York Times, but we could have told you it was Katy Perry. Back in 2012, Mayer and Perry became cozy with each other after Perry's divorce from actor Russell Brand had finalized. The new couple kept things quiet, but the paparazzi still had a lot of fun tracking their moves as they bopped around, enjoying romantic dates. Nevertheless, by the spring of 2013, the pair had called it quits. At the time of the split, rumors were flying that the decision to end the relationship had come from Mayer, not Perry, but the breakup did not seem to phase her as much as him in the weeks afterward.
But, after several months, news broke from out of left field that Mayer and Perry were, in fact, in a relationship. The story was timed perfectly for the release of Mayer and Perry's duet, "Who You Love," whose music video was stocked full of people in real relationships, including the two musicians themselves. But, within weeks, the relationship had fizzled out yet again. Both artists kept things moving in a forward direction. Perry kept busy with The Prismatic World Tour and the 2015 Super Bowl Halftime Show, and Mayer went back to work crafting new music, such as "Still Feel Like Your Man," which includes the lyric, "I still keep your shampoo in my shower in case you want to wash your hair." Aw. Sad face.
According to John Mayer, "Still Feel Like Your Man" was inspired by something he calls "ancient Japanese R&B." Mayer crafted a corresponding music video with a Japanese fantasy theme that he admits could spark controversy, something which Katy Perry also knows a thing or two about because of her own occasional missteps in the direction of cultural appropriation. Ask Cosmopolitan, and they will tell you Mayer's assertion about sparking controversy was right.
Putting all of the controversies aside, we think the new song is pretty catchy. Plus, we want to focus on one of the not-so-controversial aspects of the promotions for John Mayer's latest efforts: the fact that the latest single comes from the second of three EPs that Mayer is releasing in advance of the LP. That marketing strategy seems to work really well for music makers who have been out of the spotlight for a while. Remember how Robyn made that successful comeback with her Body Talk album in 2010? Maybe John Mayer can pull off something similar this year.
Your Daily Blend of Entertainment News
Thank you for signing up to CinemaBlend. You will receive a verification email shortly.
There was a problem. Please refresh the page and try again.