Katy Perry Just Went Off About Her Feud With Taylor Swift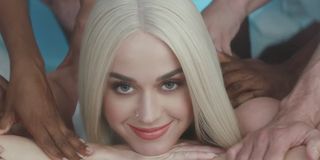 Katy Perry and Taylor Swift used to avoid interview questions about their purported feud. Instead, they took jabs at each other through cryptic social media posts and song lyrics with thinly veiled insinuations. But now Perry has opened up about her perspective on what went wrong in her former friendship with T-Swift. In fact, Perry not only acknowledged there is truth to the rumors but also described the grounds for the feud in detail. The "Bon Appétit" singer told a spicy story with a whole bunch of ingredients, saying,
Katy Perry dropped this particular truth bomb during a Carpool Karaoke segment on The Late Late Show with James Corden. The talk show host asked the 32-year-old singer if she or Swift had tried to work out the problem. Perry made it sound like all attempts to make amends were shut down, saying,
Whether Katy Perry thinks karmic retribution has occurred is unclear. Perhaps Perry was referencing when Kim Kardashian and Kanye West seemed to catch Taylor Swift in a moment of dishonesty on tape last year. After all, Katy Perry has made it clear she is team Kardashian. Plus, when Perry and Swift's friendship took a nosedive, Perry took to Twitter to remind people to "Watch out for the Regina George in sheep's clothing," a tweet many people saw as Perry calling Swift deceitful like the fictional mean girl. In other words, Perry bringing up karma could be tantamount to her saying, "I told you so." Check out the full video here and decide for yourself:
The storyline about Katy Perry "stealing" Taylor Swift's dancers received much press years ago. It is interesting to hear Perry confirm it, but it is sad to hear the women have not forgiven each other. At the same time, other supposed reasons for the fallout of the friendship included the fact they both dated John Mayer, so the story might not be as cut and dried as Perry makes it seem. Regardless, Perry made it sound like the ball is in Swift's court now, so it would be intriguing to hear a candid response from the 27-year-old singer. Better yet, the women could go with James Corden's suggestion of simply taking the beef off the grill.
Your Daily Blend of Entertainment News
Your Daily Blend of Entertainment News
Thank you for signing up to CinemaBlend. You will receive a verification email shortly.
There was a problem. Please refresh the page and try again.