What Kesha's First Song In Four Years Is Really About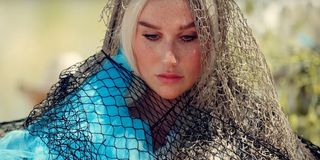 Kesha has been trapped in a state of business limbo for several years. But now the 30-year-old pop singer is back with a brand-new song that packs a punch of meaningful lyrics. The track, "Praying," is the lead single off her new album, "Rainbow," which is set for release next month. The new song is quite an inspiring one lyrically. Moreover, the story behind it creates a deep atmosphere of positive encouragement. Kesha wrote about the meaning behind the song and said,
The "unobtainable place of peace" Kesha is in right now is evident from her tone and tenor throughout the letter, which she penned for Lena Dunham's blog, Lenny Letter. Kesha shared details about the difficulty she faced when creating her latest body of work. She wrote about how depression essentially strapped her to her bed. She wished to sleep all day and struggled with night terrors when she slept, and then she had a hard time getting to the studio to work on music. But she made it.
The obstacles Kesha writes about most likely stem from her personal struggles, most notably her time in rehab and her court battles with music producer Dr. Luke. The two have been in a complicated war of lawsuits since Kesha filed a California civil suit against Dr. Luke and accused him of drugging, assaulting, and verbally abusing her. Dr. Luke hit back with a New York Supreme Court lawsuit against Kesha. The music producer accused her of trying to defame him and get out of her recording contract, which stipulated she needed to complete three more albums with Sony. Then last year, Kesha sought an injunction to help her sidestep that contract and continue making music with other people while the court cases continued. She ultimately lost the injunction. In that time, Dr. Luke's own contract with Sony has ended.
In the letter, Kesha also gave thanks to Ryan Lewis and Ben Abraham for helping her to produce the new song. She also expressed gratitude to esteemed music video director Jonas Åkerlund, who directed the creative video. You can check it out here:
Kesha is supposed to release two more albums under Sony after "Rainbow," and her new album suggests she is coming to terms with what she must do. Now she is forging onward with strength and determination, and perhaps "praying" tomorrow is better for everyone.
Your Daily Blend of Entertainment News
Thank you for signing up to CinemaBlend. You will receive a verification email shortly.
There was a problem. Please refresh the page and try again.