Spider-Man Actors Tom Holland And Zendaya Are Apparently Dating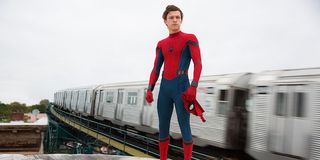 Tom Holland and Zendaya play friends in Spider-Man: Homecoming, but the actors apparently are more than friends in real life. The two reportedly are getting cozy as a couple these days. Holland and Zendaya have neither confirmed nor denied the rumors, but it sounds like somebody spilled the beans and let the press in on the big secret.
As a source for People tells it, Tom Holland and Zendaya began dating after they met during the filming of the superhero blockbuster movie. They are extra cautious about their relationship because they want to keep it private. They reportedly have spent a lot of time together for fun. For example, Zendaya joined Holland when he recently got a Spider-Man-themed tattoo. The insider indicated the two young actors are hard workers and they try to encourage each other in their careers. Plus, they make each other laugh and share the same sense of humor.
The news about Tom Holland and Zendaya dating takes earlier reports about their friendship to the next level. Before the premiere of the summer blockbuster, Holland himself talked about how he and his costar had become close, and how she had helped him in Hollywood. However, Holland only said that he and Zendaya were the best of friends at that time. Holland said Zendaya was a good person to turn to when he had questions about managing fame, because she is such a famous young star.
Tom Holland and Zendaya have yet to make their relationship official, but they have shared the red carpet together for Spider-Man events. Plus, they poked fun at the recent reports that they are dating. For example, Zendaya took to Twitter to laugh off the rumors that she and Holland had taken vacations together. She wrote,
Tom Holland joined Zendaya in laughing about the dating rumors. He responded to Zendaya's tweet by asking,
Zendaya could not contain herself, and responded,
So, perhaps the young stars are trying to throw off the public. Or maybe the reports about their budding relationship are nothing more than publicity for the movie. However, it would not be the first time Spider-Man has sparked romance between the stars.
Tobey Maguire and Kirsten Dunst started dating when they filmed Spider-Man in 2002, and they dated for a few years but split up before filming the third installment in the series. Furthermore, Andrew Garfield and Emma Stone dated for a few years after filming The Amazing Spider-Man from 2012.
There must be something about Spider-Man that brings the celebrities together. Perhaps the secret is that famous upside-down kiss Spidey made famous. We'll have to stay tuned to see what Tom Holland and Zendaya have to say about it all.
Your Daily Blend of Entertainment News