Ariel Winter Has A New Back Tattoo, Goes Pantless To Show It Off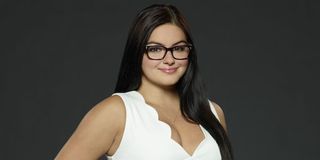 Ariel Winter of Modern Family fame recently revealed one of her many tattoos in a daring photo on social media. The picture is extra alluring because Winter's new ink is in a rather private place on her body. It rests just below Winter's right hip and sweeps around to her backside. To show off the tattoo, Winter ditched her pants and underwear to take a picture. Check out the image here:
The new tattoo is written in Greek. Ariel Winter added the caption "Love risks everything and asks for nothing" below the photo, so that mantra most likely is the meaning of the tattoo. One thing is for sure; Ariel Winter is a confident young woman.
Apparently, Ariel Winter got the tattoo a while back, but the recent Snapchat photo she shared is, perhaps, the most revealing image of the tattoo so far. You can get other glimpses of the tattoo in some other skin-baring pictures the young star posted on Instagram. For example, here is Winter giving a "peep" of the tattoo:
And here you can see the tattoo in a photo of Ariel Winter with her beau, Levi Meaden:
This new tattoo marks Ariel Winter's eleventh tattoo. Her other tattoos include a tiger on her back, the initials of her nieces and nephews on her ribs, and a date that is significant to her in Roman numerals on her arm.
On Modern Family, Ariel Winter plays Alex Dunphy, the bookish middle sister in the Dunphy family. In real life, Winter is free-spirited and provocative compared to her sitcom character. However, it is still a surprise when Winter takes to social media to share photos like the one above, which she shared on Snapchat.
It is not the first time Ariel Winter has posted revealing images on social media. In addition to being a lover of Snapchat, Winter often uses Instagram and Twitter to share pictures of herself with fans and followers. Besides the revealing photos on social media, Winter has made a quite the stir in recent times with jaw-dropping red carpet looks like the one she wore to stand out from her Modern Family costars this past spring.
In fact, Ariel Winter's changing looks and fearless photos have received a mixed reaction. For example, Winter's estranged mother criticized the starlet for showing too much skin in photos, and she urged Winter to wear more clothes. We wouldn't be shocked if she flipped her lid when she saw this most recent tattoo picture.
Your Daily Blend of Entertainment News
Thank you for signing up to CinemaBlend. You will receive a verification email shortly.
There was a problem. Please refresh the page and try again.