Celebrity Halloween Costume Roundup: 2016 Edition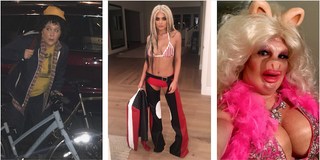 Your favorite celebrities went ALL OUT with their Halloween costumes this year. Get a look at everything that the stars dressed as this year.
Kylie Jenner - Christina Aguilera in her "Dirrty" video
It's about time for her arrival! Kylie Jenner took us all the way back to 2002 with a pitch-perfect portrayal of Christina Aguilera's look in the music video for "Dirrty." Aguilera herself gave the costume her stamp of approval, tweeting "Get it girrrl!!!"
Scott Eastwood - Clint Eastwood in The Good, the Bad, and the Ugly
Scott Eastwood kept it all in the family this year. The up-and-coming young star paid tribute to his famous father Clint Eastwood by dressing up as one of his most famous characters: the bounty hunter "Blondie" from 1966's The Good, the Bad, and the Ugly.
Amy Schumer - Dustin from Stranger Things
Amy Schumer cashed in on the trendiest Halloween costume concept of the year by bringing the kids from Stranger Things to life. But rather than going as the superpowered girl Eleven, the comedian instead opted to channel the lovable little boy Dustin.
Colton Haynes - Miss Piggy
Arrow and Teen Wolf star Colton Haynes continued his dominance over all of Halloween this year by applying mounds of prosthetics and going out as Miss Piggy. In the past, he'd been known to go similarly all-out as Ursula from The Little Mermaid and Shrek's Princess Fiona.
Katy Perry - Hillary Clinton
Colton Haynes wasn't the only celeb to use prosthetics to create a perfect costume. Katy Perry looked unrecognizable after transforming herself into presidential candidate Hillary Clinton this year.
Bette Midler - Winifred Sanderson
Bette Midler definitely gave the people what they wanted this Halloween! The star of stage and screen resurrected her famous 1993 Hocus Pocus witch Winifred Sanderson to properly celebrate the night.
Demi Lovato and Nick Jonas - Dorothy and the Scarecrow
Besties and tourmates Demi Lovato and Nick Jonas got cute in a couples costume. Of course, they kept the theme musical, with both singers dressing up as main characters from The Wizard of Oz.
Beyoncé - Salt-N-Pepa
Beyoncé took it back to the '90s to pay homage to hip hop pioneers Salt-N-Pepa with her costume. And the whole Knowles-Carter family got in on the throwback fun, including mom Tina Knowles, daughter Blue Ivy, and husband Jay-Z.
Mindy Kaling - Tom Hanks in Sully
Leave it to Mindy Kaling to come up with the most creative, hilarious, and pop culture-relevant Halloween costume of all. The Mindy Project star donned a white mustache, wig, and a pilot's outfit to portray not famed pilot Sully Sullenberger, but Tom Hanks playing the pilot in his new film Sully. Talk about layers.
Paris Hilton - Supergirl
Paris Hilton is known to go all out on Halloween, and this year was no different. The socialite changed her costume each day of the weekend, dressing up as Supergirl, Alice from Alice in Wonderland, and Little Red Riding Hood.
Miranda Cosgrove - Daphne from Scooby-Doo
Jinkies! Miranda Cosgrove had a mini iCarly reunion with former costar Jennette McCurdy to channel the groovy, mystery-solving team from Scooby-Doo. Cosgrove sported a long red wig as Daphne, and McCurdy put some glasses on to be the group's Velma.
Ariel Winter - Emma Stone from Easy A
Like Paris Hilton, Modern Family star Ariel Winter also switched up her costume various times over the Halloween weekend. Along with dressing up as a nurse and a bunny, the young star paid homage to Olive Penderghast --- better known as the slut-shamed high schooler that Emma Stone portrayed in 2010's Easy A.
Kourtney Kardashian - Corpse Bride
The oldest Kardashian sister added some gore to a wedding gown when she went out for a viewing of Tim Burton's classic film A Nightmare Before Christmas (though, Corpse Bride may have been more fitting). She also had a more kid-friendly costume for hanging out with her children, dressing up as the Red Ranger from Power Rangers.
Jenna Dewan Tatum - Unicorn
Jenna Dewan Tatum lived out a truly magical fantasy for her Halloween girls' night out. The actress covered herself in sparkles and placed a horn on her head to embody a unicorn.
Taylor Lautner and Nina Dobrev - Ryan Lochte
Another trendy costume this year is to go as disgraced Olympic swimmer Ryan Lochte, and apparently more than one celebrity had this idea. Both Taylor Lautner and Nina Dobrev showed up at a party with the same silver hair and gold medal.
Martha Stewart - Marilyn Monroe
Martha Stewart didn't just celebrate Halloween by baking some cookies --- the lifestyle guru also get all dolled up as Marilyn Monroe for the holiday. Stewart also shared a much less glamorous costume earlier as a bloodied nurse.
Khloe Kardashian - Storm
Ryan Lochte wasn't the only silver-haired costume in Hollywood. Khloe Kardashian powered up as the X-Men hero Storm.
Zoë Kravitz - Princess Peach
Zoë Kravitz turned the Halloween party she popped up at into the Mushroom Kingdom, and claimed the thrown as Princess Peach. There's no Mario in sight, but Luigi made an appearance!
Your Daily Blend of Entertainment News
Your Daily Blend of Entertainment News
Thank you for signing up to CinemaBlend. You will receive a verification email shortly.
There was a problem. Please refresh the page and try again.