Chris Brown Finally Explains What Happened That Night He Punched Rihanna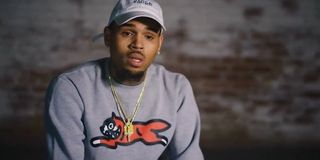 Who could forget the picture of Rihanna with facial bruises and cuts after her ex-boyfriend, Chris Brown, became physically violent with her? It has been eight years since the world first saw that image. Now, in a new documentary, Brown has revealed his recollection of what happened when a domestic dispute turned violent after the Clive Davis party before the 2009 Grammy Awards. From the sounds of it, Brown feels like he was not the one who instigated the fight, but he says he took it way, way too far. He described the scene inside the car and said,
Apparently, physical violence had crept into the relationship long before the incident that caught the world's attention. According to Chris Brown, a series of domestic disputes started when he told Rihanna that he had been intimate with another woman. In the documentary, Chris Brown: Welcome to My Life, Brown indicated he felt "like a monster" when fights with Rihanna turned physical, and he suggested that they both took turns starting physically violent conflicts.
On the night of "the incident," the other woman whom Chris Brown had been with approached him at the Clive Davis party. Rihanna saw the brief interaction and began bawling. The two pop singers left the party, and Brown urged her to look at his phone as proof that he was not cheating on her. He swore not to be reaching out to the other woman, but Rihanna saw a text message from her. As Brown told it, that moment was when the violence began.
Chris Brown said both he and Rihanna had been drinking. He said Rihanna grabbed his testicles at one point, so he hit her. Brown stated that they pulled the car over to the side of the road, and he got out. Then Rihanna began shouting to passersby and pleading for help.
The incident occurred a little after midnight on February 8, 2009. Brown turned himself over to the Los Angeles Police at 6:30 p.m. that evening. Per the department's policy, the police report did not include the victim's name, but the media gathered that the woman involved was Rihanna.
In the subsequent days, the picture of Rihanna with a black eye surfaced. Chris Brown got dropped from most of his sponsors and replaced on public appearances. Radio stations banned his music, and he hired a crisis management team to intervene.
The following month, the authorities charged Chris Brown with felony assault. In April of that year, Brown pleaded not guilty to assault and making criminal threats, but then on June 22, 2009, he pleaded guilty to assault and accepted a plea deal. The deal included community labor in addition to five years of probation and counseling for domestic-violence offenders.
In the years since the incident, Chris Brown has apologized for what happened. He has mentioned various aspects of the incident, but this description provides a full understanding.
Rihanna, too, has opened up about that fateful night and her relationship with Chris Brown. In an interview with Oprah Winfrey, Rihanna admitted that the experience shot her into an intrinsic search for answers. Rihanna said she was angry and trapped in a dark place in her life after the incident.
Eventually, Rihanna learned to forgive Chris Brown by addressing resentment she felt toward him that resembled resentment she harbored against her father, who behaved violently during her childhood. When she made peace with her dad, she was able to make peace with Brown and see patterns in her behaviors and romantic choices.
Since then, Chris Brown and Rihanna have interacted in various ways over the years. For example, Brown collaborated on the song "Birthday Cake" with her. In fact, he recently commented with an eyes emoji on a sexy picture of her, but Rihanna's fans and followers were not having any of it and told him to hit the road. Surely, both of them have changed a lot in the past eight years, but it may be wise to continue keeping at least some distance.
Your Daily Blend of Entertainment News
Thank you for signing up to CinemaBlend. You will receive a verification email shortly.
There was a problem. Please refresh the page and try again.