Rihanna Looks Really Sparkly In Barely There Costume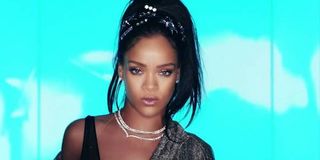 Rihanna recently visited Barbados, her home country, for the famous Crop Over Festival. She dressed up in a gorgeous, feathery outfit for the event. During the festival, the 29-year-old pop star and sometimes-actress spread her wings and took to social media to share images and videos of herself in the sexy costume. Needless to say, Rihanna shined bright like a diamond. Check out the outfit in this picture here:
Rihanna shared updates from the event with her 55.5 million followers on Instagram. Only someone as fabulous as Rihanna would know how to work work work this scorching hot costume, and the turquoise hair was out of this world. Here you can see the outfit from a different angle with a closeup of all the jewels on her body:
It looked like Rihanna was having a blast at the party. She posted some videos to her other social media accounts and showed some glimpses of everybody getting rowdy around her. Riri also posted some video clips of herself in the wild costume. Here she is looking dazzling:
Then in this Instagram gallery, you can catch all of the detail on the feathers. In fact, you can see the bejeweled cup Rihanna had for the event (because of course she did). Check it out:
Rihanna has attended the event in sexy costumes in the past. A fan posted this collection of some of her other outfits. Take a look:
This year's outfit might be the best of the bunch. What do you think? Let us know which of Rihanna's Crop Over Festival costumes you like best in the comments section.
It is worth noting Chris Brown left a comment on one of Rihanna's Instagram photos. He posted emoji eyes, which sent Rihanna's fans into a meltdown telling Brown to "GTFO." (His mind must have been in Disturbia when he wrote for all to see.)
Regardless, Rihanna seemed unfazed by her infamous ex's sneak attack. And why should she be fazed? She was dressed to slay in this iconic outfit, and she knew it. Riri wins the internet for now.
Your Daily Blend of Entertainment News
Thank you for signing up to CinemaBlend. You will receive a verification email shortly.
There was a problem. Please refresh the page and try again.