Prince William Reveals One Of The Hardest Things He's Ever Done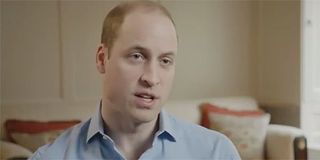 One of the saddest moments of the 1997 funeral of Princess Diana was the image of Prince William and Prince Harry walking behind their mother's casket. Afterward, the royal family's management team promoted the notion that the boys chose to do it. However, that was not entirely accurate. In a new documentary, Prince William has revealed that the walk was, in fact, one of the most difficult things he has ever had to do. The Duke of Cambridge said,
In the BBC documentary, Diana, 7 Days, Prince William and Prince Harry both talk about what a harrowing experience it was to walk alongside their deceased mother in front of millions of people. The explanation underscored a description Prince Harry recently gave Newsweek when he elaborated,
Princess Diana's brother, Charles Spencer, felt the same way. He reiterated Prince Harry's sentiment on television during The Story of Diana, noting it was awful that "a little chap" had to walk after his mother's casket. He also said in that special that the event alternated between silence and wailing, with fans of the young sons of Diana all trying to say their piece.
Reportedly, Princess Diana's brother wanted to be the only person to walk behind the casket. However, the royal family's management team supposedly thought it necessary to have her ex-husband, Prince Charles, walk behind the coffin. Then because Prince Charles was there, they wanted Prince William and Prince Harry to join.
Princess Diana died as a result of injuries she sustained in a tragic car accident in an underpass in France. Prince William and Prince Harry had not seen their mom in about a month, as they were vacationing with Prince Charles and Queen Elizabeth II in Scotland while Princess Diana toured various cities on a mission for peace.
When Princess Diana passed away, two royal drivers retrieved her body from Paris. Then the royal family held a funeral at Westminster Abbey in London, England, on September 6, 1997. It was a spectacle, and virtually every news station in the world broadcast the event.
A media circus followed, and it left Prince William and Prince Harry with residual trauma. This year, in fact, Prince Harry revealed he sought professional therapeutic help to deal with emotions he had tried to push away for two decades. It sounds like some of that pain came from being compelled to walk behind Princess Diana's casket.
Luckily, Prince William and Prince Harry found a way to turn their pain into purpose. Along with Princess Catherine, the brothers developed the Heads Together campaign to help people overcome stigmas of mental health issues. In doing so, they managed to help many people in painful situations, which has also seemed to have helped the two young men heal.
Your Daily Blend of Entertainment News