Products That Now Come In Pumpkin Flavor But Possibly Shouldn't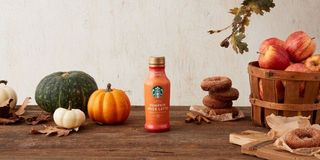 It's that special time of year. The air is crisp, the leaves are falling, and the Pumpkin Spice products are everywhere. Of course, pumpkin pie and spicy cinnamon treats have been an autumn mainstay for years, but some experts say Starbucks single-handedly created an entire market for Pumpkin Spice products when it debuted its famous Pumpkin Spice Latte years ago. Mind you, some of the many, many Pumpkin and Pumpkin Spice products out there are great. (We're looking at you, Pumpkin Spice candles and chai tea.) On the other hand, companies sometimes hawk Pumpkin Spice products that are much more trick than treat. Here is a rundown of some of the more questionable Pumpkin-oriented merchandise in stores today beginning with gum.
Gum
After enjoying a Pumpkin Spice beverage, you might want to grab some gum to get rid of the lingering bitter aftertaste and bad breath. But mint gum should suffice. Besides, if the Pumpkin Spice flavor of this gum wears off, you could get a double-whammy blend of bitter tastes. Then again, Extra's (opens in new tab) flavor lasts "an extra, extra, extra long time" according to its old jingle; therefore, this gum could be safe. But we'll let you decide for yourself.
Pringles
When you think of Pringles, you probably think of salty and savory tastes. A while back, Pringles started persuading us to check out sweet flavors, such as its Milk Chocolate Pringles, which are essentially a regular chip with a dusting of chocolate powder. Those get a mixed review, and so do these limited edition Pumpkin Spice Pringles for the fall. Surprisingly, Amazon (opens in new tab) reviewers who bought these really, really enjoyed them. Some people even confessed thinking the idea sounded gross until they tried the product and changed their mind. It seems the jury is still out.
Pop-Tarts
True, when we adults eat Pop-Tarts, it's hard not to think of the word "processed." Still, Pop-Tarts remain crowd-pleasers with fun familiar tastes like blueberry and strawberry, which bring back happy memories. Pumpkin Pie Pop-Tarts, on the other hand, could be a swing and a miss. It's not because the concept sounds bad; it doesn't. Pumpkin pie is delicious. However, critics who disliked this product said it was too much of the bland, dry pastry and the rock-hard sugary frosting with not enough pumpkin pie filling. But the filling is supposed to be the best part!
Peeps
Have you heard of Christmas in July? Now you can celebrate Easter in October with Pumpkin Spice Peeps. You didn't ask for them, but they're here in all their hard, spongey glory. Plus, as you can see, these seasonal Peeps are dipped in white fudge. Perhaps it makes sense on paper. After all, hot Pumpkin Spice beverages are tasty, and sometimes marshmallows pair well with hot drinks like cocoa. There are even Pumpkin Spice marshmallows for people who want marshmallows in their Pumpkin Spice Latte. Peeps are supposed to be a variety of marshmallows, so say hello to Pumpkin Spice Peeps. Do you dip them in your PSL? Do you eat them like normal? It's a mystery. But then again, so are Peeps.
Dog Shampoo
The Pumpkin Spice trend is literally going to the dogs with this Espree Pumpkin Spice pet shampoo. It seems like only one thing could smell worse than a wet dog, and that is a wet dog with a hint of Pumpkin Spice scent poking through, so make sure you dry your pet well after you use this product or you'll end up with an unfortunate fall bouquet.
Body Lotion
Perhaps you love the pumpkin spice craze so much that you dream of lathering your body with the cream of your Pumpkin Spice Latte. If so, this product would be perfect for you. While this Fields of Heather Pumpkin Spice Body Cream (opens in new tab) seems strange, it perhaps is a good fall alternative to the coconut or oatmeal scents of most skin lotions. Plus, this one offers equal amounts of SPF and basic AF.
Car Spray
Apparently, you can use this car spray from Adam's anywhere indoors to wipe things down and bring out the cozy side of your car's interior. If you would like your car to smell like the inside of a jack-o-lantern, then this product is a good alternative to, say, accidentally spilling your Pumpkin Spice Latte in the car. However, don't be shocked when friends ask if the latter is what you did.
Beard Oil
Nothing says masculinity like the robust scent of ... Pumpkin Spice. Now you can get this limited-edition Pumpkin Spice beard oil (opens in new tab) that comes with a shaping tool from The Beard Bro. First get a crisp shave with perfect angles. Then add the Pumpkin Spice oil to keep your manly mane festively soft. Just think of it as pumpkin carving with a straight razor and facial hair.
Deodorant
Old Spice deodorant is old news. Taylor's Pumpkin deodorant (opens in new tab), on the other hand, is the scent you've always wanted. After all, aren't you tired of deodorant that leaves you smelling clean and washed? Forget Teen Spirit. Get in the Halloween spirit with all the warmth you could want from a spicy deodorant mixed with apple and pumpkin fragrances. Hopefully, it works longer than a few hours. The combination of sweat and Pumpkin Spice sounds dangerous.
Twinkies
The Amazon (opens in new tab) reviews on this one speak volumes. For example, one customer said she gave this product to a friend who had never had a Twinkie. According to her, she gave this to the friend because she likes cotton candy, and the friend "was one and done." Okay, technically, there are a few problems there. First, a person's primary Twinkie experience needs to be a regular, tried-and-true Twinkie. Secondly, cotton candy is not the same as Pumpkin Spice. Finally, this Twinkie, with its beige-brown filling looks like traditional Twinkie filling gone bad.
Okay, okay, we are giving the Pumpkin Spice trend a bit of a hard time with these products. Clearly, there is a big market for them, and they could be worse, as evidenced by the fake Pumpkin Spice condoms Durex explained away on Twitter a while ago. So, whether you love or loathe Pumpkin Spice products, let us know what you think in the comments section.
This poll is no longer available.
Your Daily Blend of Entertainment News
Thank you for signing up to CinemaBlend. You will receive a verification email shortly.
There was a problem. Please refresh the page and try again.