Kelly Osbourne Blames Starbucks After She Peed Her Pants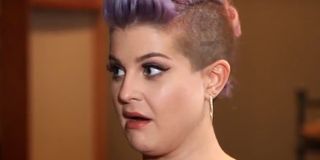 Kelly Osbourne might not be feeling full of pride after her negative experience at a Starbucks she visited during the annual LGBT Pride events in New York City. The 32-year-old daughter of rock star Ozzy Osbourne and talk-show host Sharon Osbourne apparently peed her pants when she could not access a restroom at the coffee shop. The former Fashion Police presenter was so outraged that she took to social media after the embarrassing moment and put the Starbucks on blast. She tweeted,
That hashtag is... golden. Kelly Osbourne shared the story on Twitter and included the photo of the Starbucks to show the situation happened at the Starbucks on the corner of Sixth Avenue and West 27th Street in New York City. Afterward, Osbourne received a response from at least one Starbucks representative, who apologized for Osbourne's experience.
The former reality-television wild child had been having fun at the Pride events with her celebrity pal, Sam Smith. When Kelly Osbourne stopped into the Starbucks to use the restroom, the employees could not help her. But it was nothing personal, and the employees were not trying to take the piss out of her. It turns out that particular Starbucks location does not have a restroom because of the store's small size. A Starbucks representative explained the matter to The Mirror and said,
Unfortunately for Kelly Osbourne, the response from Twitter users appeared mixed to negative. Followers showered her with a stream of comments, and while some people supported her and said Starbucks ought to buy her new shoes in addition to offering a free drink, most people appeared to side with the Seattle-based store. Many of Osbourne's critics pointed to the fact the particular location truly had no restroom to offer Osbourne, while others said the baristas were most likely following policy and protocol and Osbourne should show more respect to minimum wage workers.
Some followers called Kelly Osbourne bratty and dramatic for calling out Starbucks. Others said the customer is not always correct. Some people said using the restroom should be a basic right, but then other people reminded those individuals that the Starbucks did not have a public restroom, so rights did not factor into the problem.
It will be interesting to see if Kelly Osbourne addresses the incident again. So far she has not made another pee-p about it.
Your Daily Blend of Entertainment News